Earlier today (5th February 2021), Xiaomi had teased that it would be unveiling something new and innovative that would be "mind blowing." And it seems the company kept its word as it revealed its first Quad Curved Waterfall Display Concept Smartphone, which features a curved display on all four edges of the device.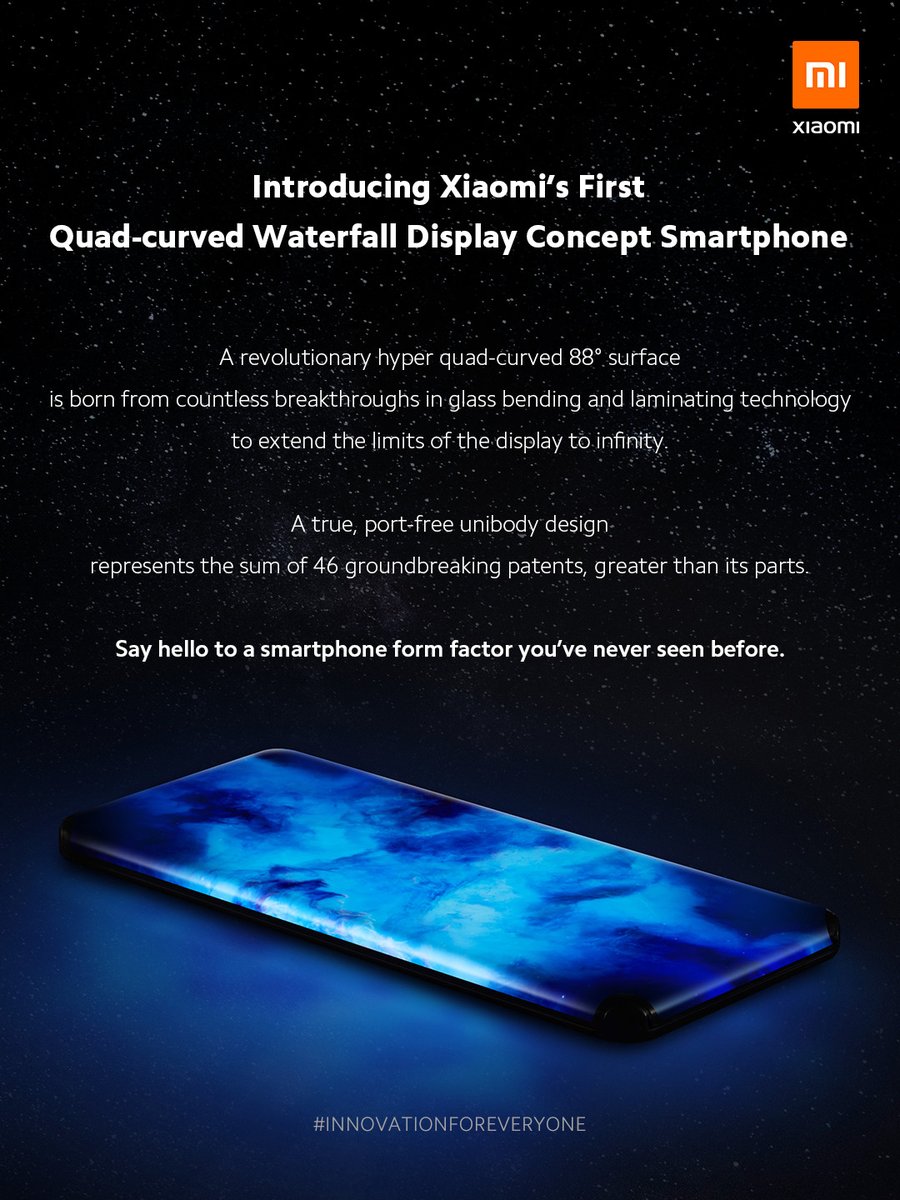 Through its official Twitter handle, the Chinese tech giant shared an image poster revealing this concept device. Looking at this device, it can be observed that all four edges of the device are curve around the side of the device at an angle of 88 degrees. While curved edges aren't something new in the industry, having all four edges being curved has never been seen before. In other words, the company's first Quad Curved Waterfall Display Concept Smartphone is truly a unique handset that also signifies its emphasis on 'innovation'. From the front, the device would seem to be mostly covered by the display, except the corners.
Furthermore, the smartphone manufacturer stated that it achieved the quad curve 88 degree surface through "countless breakthroughs in glass bending and laminating technology to extend the limits of the display to infinity." Xiaomi also added that the device features a port free unibody design and has been built using a total of 46 different "groundbreaking" patents. Notably, the 88 degree curved edges have been prior to this in devices like the Mate 30 Pro
Similarly, other OEMs have also showcased their curved edge smartphones in the past as well. However, these devices generally only feature just two curved edges that were on either side of the device and didn't include the top notch and the bottom chin region of a handset. While the Xiaomi concept certainly looks futuristic and eye catching at the moment, it is unclear if the company actually aims on commercially launching such a product. Another major concern regarding the device would also be its durability, as having more edges as glass/display makes it more prone to cracks even from simple falls.
RELATED:
ALWAYS BE THE FIRST TO KNOW – FOLLOW US!