Xiaomi has often used Weibo surveys to get feedback from its fans regarding an upcoming product. The company's CEO Lei Jun has recently published a survey which is aimed at finding out if fans will be willing to pay 10,000 yuan (~$1,548) for an upcoming phone.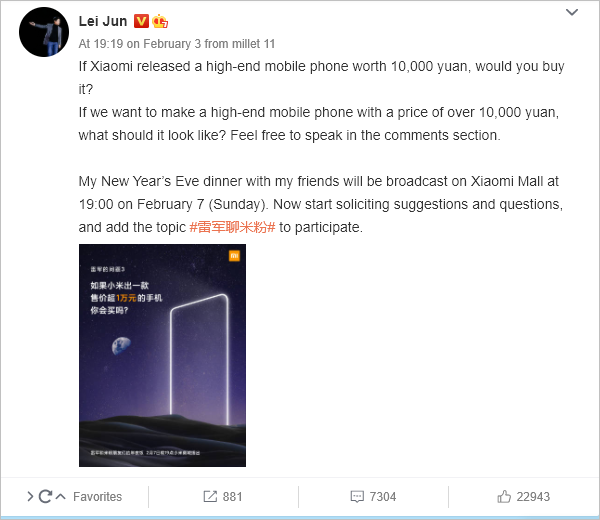 Xiaomi's CEO Lei Jun did not disclose what the phone will be. Instead, he also asked them what a Xiaomi phone with this price tag should look like. However, there are speculations that the survey may be a prelude to the brand's first foldable smartphone.
The Chinese company is known for its budget and pocket-friendly products that offer users amazing value for their money. However, Xiaomi released the mi 10 Ultra last year with the price hitting the $1,000 mark. The Mi 10 Ultra was well received and even though the sales figures are not known, we believed the product performed very well in the market.
It is unlikely that Xiaomi will release a flagship phone that isn't a foldable model and sell it up to $1500. Thus, this could be taken as a teaser for the brand's upcoming foldable phone. There is no word yet on when the company will release its first foldable device but we expect it to happen this year.
Lei Jun equally hinted that he will discuss the brand's plans for the premium expensive phones on February 7 during his Chinese New Year address to Mi fans. We'll bring you more details as they unfold. Meanwhile, you can also share your thoughts with us in the comments section below. Would you buy a $1,500 Xiaomi phone?
RELATED;
ALWAYS BE THE FIRST TO KNOW – FOLLOW US!