Battery bulging is more than just a sign of an aging battery pack, but also a matter of safety risk. Now, Xiaomi has patented a new lithium battery technology that seeks to address this issue.
According to a MyDrivers report, the Chinese tech giant applied for a patent last month, which got published earlier this week. This patent was titled "Battery Expansion Prompt Method and Device," and was invented by Luo Wenhui. As the name suggests, this technology will be able to detect and inf orm the user regarding their aging battery and its health. In other words, it can detect if the battery is bulging and alert the user, so as to avoid any complications.
The description states that "The present disclosure relates to a method for prompting battery expansion. The device includes: a battery compartment, a battery back cover, piezoelectric ceramics, and a current detection circuit; wherein the piezoelectric ceramic is arranged on the inner side of the battery back cover at a position facing the battery; or the bottom of the battery compartment. The current detection circuit is connected to the piezoelectric ceramic and is used to detect a current signal generated by the piezoelectric ceramic. When the piezoelectric ceramic generates a current signal, it indicates that the degree of battery expansion exceeds an expansion threshold."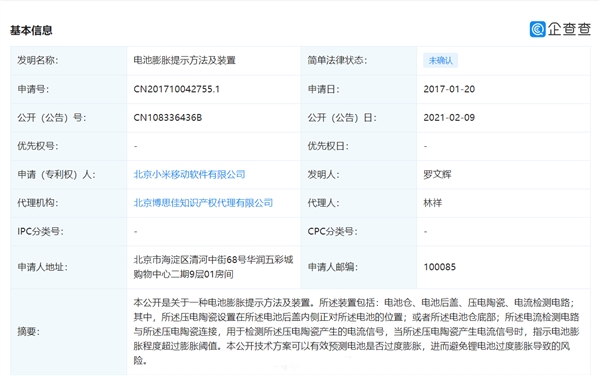 To put it simply, the technology would be based around the battery/surrounding it and will be able to detect any abnormalities in its shape. This technology could soon even be staple in the industry, especially in terms of safety. So stay tuned for more, as we will be providing updates when additional information is available.
RELATED:
ALWAYS BE THE FIRST TO KNOW – FOLLOW US!