Amid the Coronavirus pandemic, the average users have apparently become more fixated towards their smartphone. A new study from Vivo and Cyber Media Research has revealed that the increased usage of smartphones have led to impacts on users' mental and physical health, with many worrying about smartphone addiction.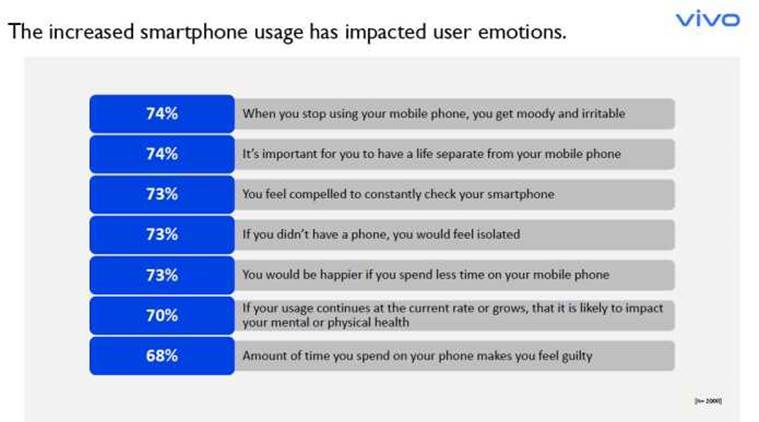 The study titled "Smartphones and their impact on human relationships 2020' arrives as the second edition of the report this year. It takes a look at the impacts of the pandemic and even highlights the growing dependency of users' to their smartphones this year, as per an IndianExpress report. According to Nipun Marya, Director Brand Strategy at Vivo India, "Excess usage of smartphones, we believe is somewhere harming relationships. And, therefore, it fundamentally goes against our brand values. Excessive usage is leading to addiction, which is then harming relationships."
With various governments enforcing a lockdown after the viral outbreak, work from home and staying indoors became the new norm, which has affected people from across the globe. Studies have found that there has been a major jump in smartphones usage in terms of hour per day. Marya added that "There is nearly a 39 per cent increase in smartphone usage from 2019. Last year, the duration in hours was at 4.5 hours, and this has increased to nearly 7 hours now."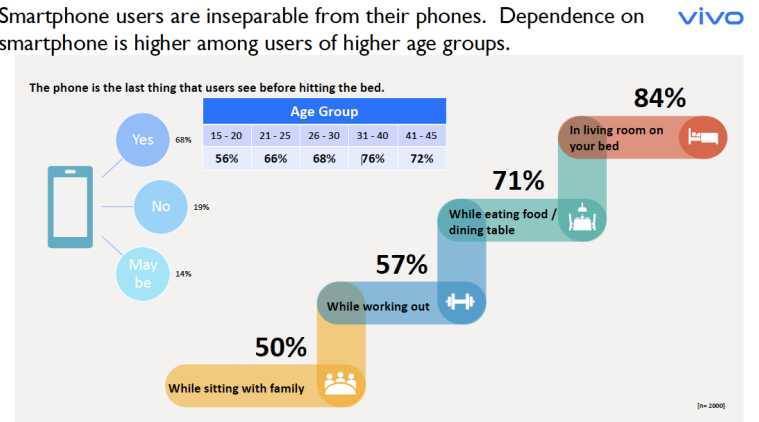 The study found an increase in "office work by 75 percent, calling by 63 percent, OTT by 59 per cent, video consumption by 56 per cent, social media usage by 55 per cent and gaming around 45 per cent," all due to the lockdown. Although, the time spent on smartphones have increased, users are more worried about its impacts on physical and mental health, especially in the cases of addiction. More than 89 percent of the people that got surveyed noted that excessive use of smartphones is having a negative impact in their lives.
ALWAYS BE THE FIRST TO KNOW – FOLLOW US!