Advertisement
If the report from Canalys is to be believed, then Chinese smartphone maker Vivo has shipped more smartphones than Samsung in India in the first quarter of this year. With this, Vivo has overtaken Samsung for the first time in the Indian market.
As per the report, Vivo nearly doubled its shipments in India year-on-year to 6.7 million units, capturing almost 19.9 percent of the market. Xiaomi remains the leading smartphone brand in the country with 10.3 million units and 30.6 percent market share. This is attributed to the brand's offline expansion and affordable pricing of products.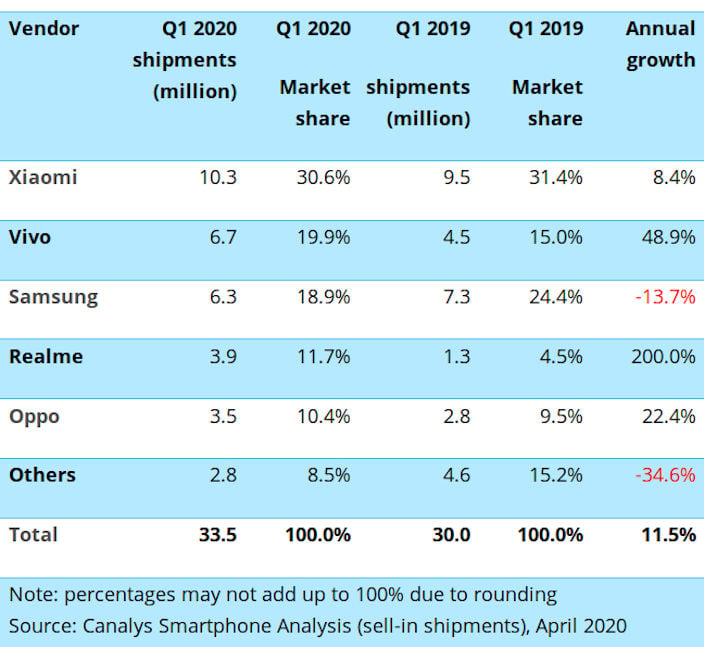 Samsung comes in at the third position with shipment of 6.3 million units and 18.9 percent market share, followed by Realme and OPPO. The report adds that Realme managed to ship 3.9 million units of its smartphones while OPPO shipped around 3.5 million units.
Overall, about 33.5 million units were shipped to vendors in the first quarter of this year in the country, registering a growth of 12 percent. However, the shipments are expected to plunge in Q2 2020 because of the on-going country-wide lockdown in India to curb the spread of coronavirus.
According to the research firm Counterpoint, the smartphone shipments in India grew 4 percent in Q1 2020. While shipments grew in the months of January and February, March reported a decline of 19 percent and thus, the growth was limited to just 4 percent.
While Vivo has become the second-largest brand in India in Q1 2020, the company may be in some sort of trouble. It was the title sponsor of IPL 2020, one of the biggest sporting event in India. With that in mind, the company shipped high stock of its devices to vendors but now with IPL getting postponed and country under lockdown, it will be difficult for the company to achieve expected sell-through after the lockdown ends.
Advertisement
The smartphone shipment numbers for the Indian market also showcases the dominance of BBK Electronics, which owns Vivo, OPPO, Realme, and OnePlus. The combined market share of its top three leading brand — Vivo, Realme, and OPPO comes at 42 percent.
ALWAYS BE THE FIRST TO KNOW – FOLLOW US!
Advertisement