If you find a person wearing Wireless Bluetooth earbuds/headphones, you shouldn't think it's because of the crazy 2020 year. As Counterpoint Research points out, the TWS(Truly Wireless) hearables have dominated the 2020 wearable market and 2021 will be the turn of wristwear(Smartwatches).
According to the report, just the Earwear and Wristwear products alone shared 93% of the overall Wearable market shipments as of Q3 2020. The other 7% meager share is occupied by Eyewear, Bodywear(3% each), and Skinwear(1%).
If the report's data is anything to go by, TWS yearly shipments is expected to settle at 238 million shipments for 2020. This is an 83% growth from last year when the hearables weren't that popular. Sure, companies like Samsung, Apple had already launched them but they were in the premium category.
Not all can afford costlier TWS earbuds and enter budget brands like realme, Xiaomi. Speaking of brands, Apple dominates the market with a 29% TWS shipments share(as of Q3). To emphasize this more, the report says that Apple also dominates the Smartwatch space with a 28% share. If you recall, the company began the year 2020 with a whopping 43.4 million shipments in Q4 2019.
1 of 2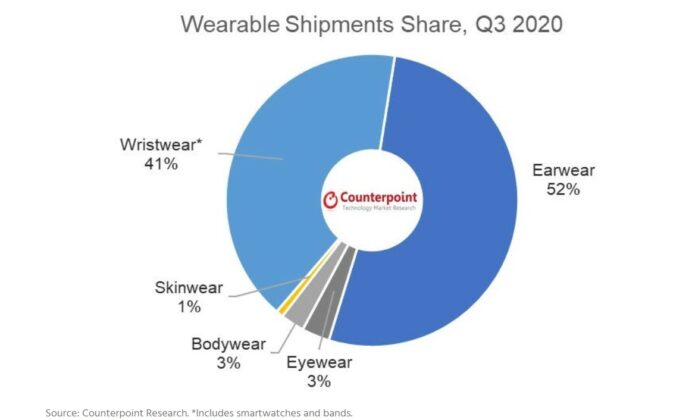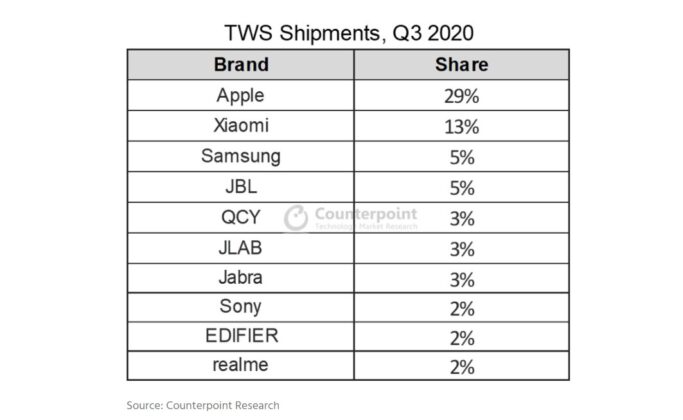 Continuing the moment into 2020, Ms. Sujeong Lim, Senior Analyst, says Apple's iOS ecosystem is one of the catalysts. If you look at rival Samsung, it is nowhere near Apple with just a 5% share. One of the reasons why TWS drove the wearable shipments is due to the omission of 3.5mm jacks in smartphones.
Trickle-down to the budget category and you see Xiaomi is the king with a 13% market share sitting only next to Apple at 2nd.
Although the list is common and not categorized, the report says by the cusp of 2020, the Top-10 list had more than 50% belonging to the budget categories. At the budget of $20-$50 and below, some notable ones were Redmi Earbuds S
realme Buds Q
, and more.
realme despite sitting at last already has reached a 2% share in just one year. And countries like India should be a deciding factor in the future just like they did in Q3.
Regarding Smartwatches, the report says that it will reach 100 million shipments this year. However, moving into 2021, you can expect this to dominate more. Increased awareness on health and fitness will drive the smartwatch sales this year. And if brands bring the prices down, we can see double-digit growth for sure.
ALWAYS BE THE FIRST TO KNOW – FOLLOW US!