Last year, there were rumors that Samsung will be pulling the plug on the Galaxy Note series following reports that the Galaxy S series will be getting support for the S Pen. While a Samsung official did reveal to the press back in December that the Galaxy Note series will continue in 2021, it appears that will not be the case anymore.
A tweet from the popular Samsung leaker, Ice Universe, seems to confirm that Samsung has pulled the curtain on the Galaxy Note series. The tweet is a picture that reads "The End" and has the caption "G alaxy Note". Put that together and you can tell that it means it is the end of the Galaxy Note series.
The Galaxy S21 Ultra launched last week as the first Galaxy S series smartphone to have support for the S Pen stylus, although it doesn't come with the stylus out of the box. Samsung has also revealed that more Galaxy phones will be getting S Pen support.
EDITOR'S PICK: Samsung to launch S Pen Pro for the Galaxy S21 Ultra later this year
Seeing as the S Pen is what defines the Galaxy Note series, is there really a need for the series to exist now that its main feature is now available on Samsung's other flagship line? We asked you guys last year via a poll if Samsung should terminate the Galaxy Note series. Below is the result. As you can see, an equal percentage are for and against it.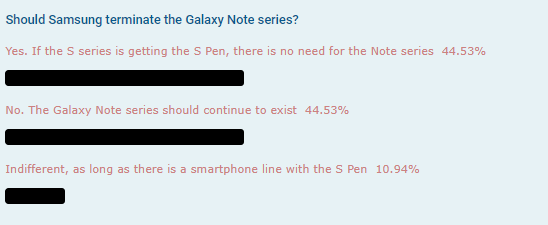 Samsung is yet to officially announce that it is no longer making new Galaxy Note smartphones, so we advise you to take the info with a grain of salt. However, seeing as the info comes from a source who is known to have plenty of contacts within the Korean giant's smartphone business, the chances of it being untrue is very very small.
There is also the possibility that Samsung may have finally decided to pull the plug on the series but after announcing a new model this year. Some other leakers have reported that the Galaxy Note 21 is in development and it will launch as a successor to the Galaxy Note 20.
ALWAYS BE THE FIRST TO KNOW – FOLLOW US!