CES 2020 is ongoing and after just two days a lot of companies launched several innovative products that may revolutionize the world of technology. We saw interesting launches from important hi-tech brands but also from startups and emerging companies. There are so many interesting products that we decided to make a selection of the 10 coolest products announced at CES 2020. We think that if you are a tech-addicted you should absolutely know these new and innovative products we are going to list. If you know other innovative products launched at Consumer Electronics Show, please share the info with us by using the comment box below the post.
The 10 coolest products of CES 2020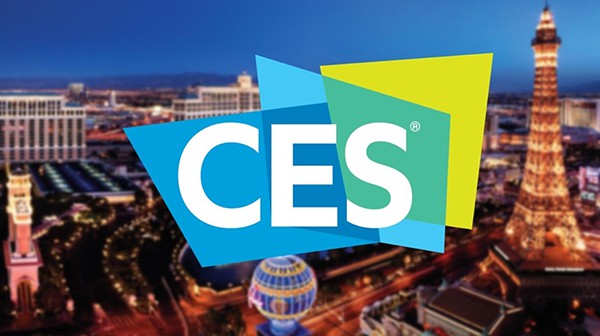 First 5G notebooks: Dell, HP, and Lenovo
For over a year we have been talking about 5G smartphones; now it is time to start talking about 5G notebooks. Dell, HP, and Lenovo showcased their first laptops with 5G connectivity at CES 2020. To be honest, Dell already unveiled the first 5G laptop a few days ago, but at CES 2020 it announced its 2 in 1 version. HP announced the Elite Dragonfly G2, while Lenovo came up with the Yoga 5G 2 in 1. The laptops support 5G connectivity thanks to Qualcomm's modem and they all run Windows 10.
OnePlus attended CES 2020 with a concept phone: the OnePlus Concept One. Its key feature is the invisible camera technology. The concept model is a smartphone with a leather rear in the iconic Papaya Orange color of McLaren and invisible triple cameras on the backside. The cameras are placed underneath an electrochromic glass which can change from opaque to transparent making the cameras effectively invisible while not used. The company said that it takes 0.7 seconds for the glass to transition from transparent to opaque or vice versa. The glass is also able to become semi-transparent so that the user can shoot better photos in very bright sunlight. The panel includes two 0.1 mm glass panels and organic material for a thickness of just 0.35 mm. OnePlus Concept One will probably never hit the shelves, but we might see this technology on board of the OnePlus 8 series.
You can learn more about OnePlus Concept One by clicking here.
Samsung Galaxy Note 10 Lite (and S10 Lite)
Samsung showcased its new Galaxy Note 10 Lite and S10 Lite at CES 2020. The two devices which will hit the shelves in Q1 2020 are the first Lite variants of Samsung's flagship lineups. The Galaxy Note 10 Lite is the first "affordable" Note device and it provides all the innovative and unique features of the S Pen for a listing price of just €599. Despite being Lite variants, these devices still come bundled with high-end specifications, including Exynos 9810 and Snapdragon 855 chipsets, as well as great camera departments including a new optical stabilization technology.
You can learn more about Samsung Galaxy Note 10 Lite and S10 Lite by clicking here.
Lenovo ThinkPad X1 Fold
Lenovo unveiled the world's first foldable laptop (with a foldable display) at CES 2020 and it is not a concept anymore. Its name is ThinkPad X1 Fold and it will be available to purchase this year. The laptop is equipped with a Plastic OLED display boasting a 4:3 aspect ratio, a 13.3-inch diagonal and a 2K resolution. The laptop weighs just 999 grams but it includes a good 55 Wh battery lasting 11 hours on a single charge, according to Lenovo. It is fueled by a next gen Intel Core CPU paired with 8 GB of LPDDR4x RAM and up to 1 TB of internal storage (SSD), it includes a SIM card slot and two USB Type-C ports. The laptop may include a 5G modem.
Samsung NEON technology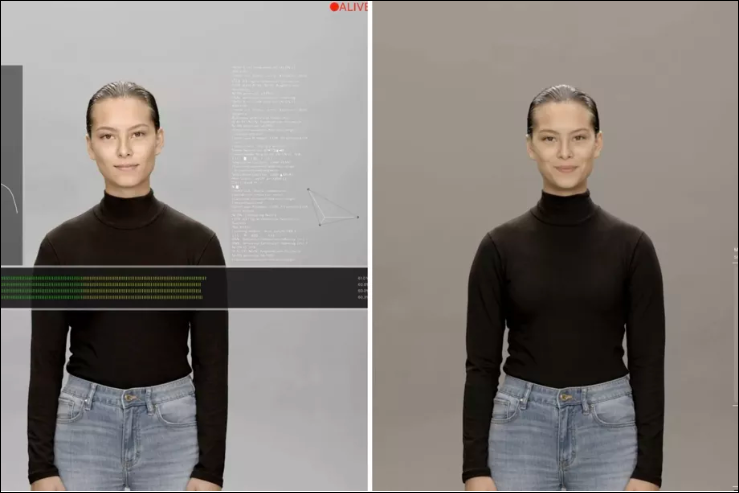 Samsung NEON is not a hardware product but it is a new technology. It is a technology able to give a body and a face to chatbots. It creates avatars able to interact with real people for a series of tasks to be accomplished. The software managing the avatars is able to generate new expressions, movements, and dialogues in real time, automatically, in just a few milliseconds. This will make the virtual avatar extremely realistic.
You can learn more about Samsung NEON technology by clicking here.
Coming to the IoT sector, Samsung unveiled Ballie: a small rotating robot that is able to recognize people around it thanks to AI and control smart home appliances. But it can do a lot more: it is even able to follow us wherever we go and find solutions or call us in case of issues. The official video shows the robot solving problems and helping the user in a very smart way: you can check it below.
Sony VISION-S concept car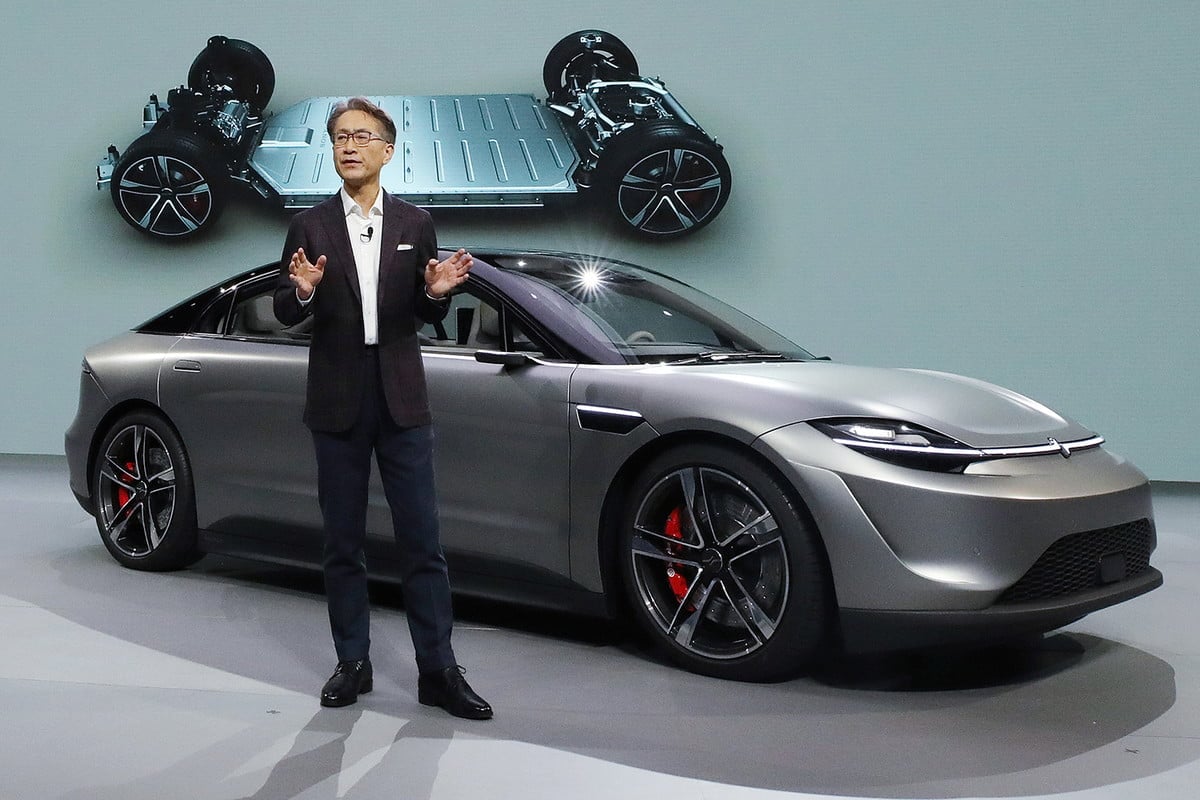 A lot of people expected Sony to unveil the PS5 at CES 2020, but it did not happen (the company only unveiled the new PS5 logo). Instead, Sony came up with a concept car: the Vision-S. It is Sony's first electric car and it was built by the company's AI and robotics team. The car features 33 sensors able to detect people and other vehicles inside and outside the car in order to provide driving support.
You can learn more about Sony Vision-S concept car by clicking here.
Samsung The Wall MicroLED TV
Yes, again Samsung. It is one of the companies that announced the highest number of innovative products at CES 2020. The nth one is the new The Wall TV: one of the biggest TVs ever made. It comes with a MicroLED panel measuring whopping 292 inches (over 7.4 meters), but there is also a 150-inch version with 8K resolution. The MicroLED panel provides perfect black levels and high brightness for a quality that is potentially better than OLED without the risk of burn-in.
Ninebot Segway S-Pod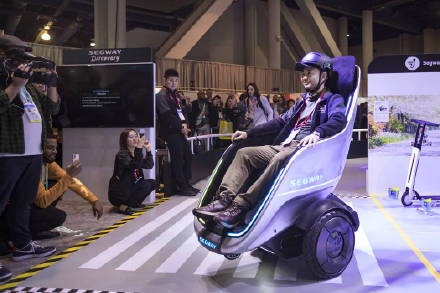 Ninebot reinvented the world of micro-mobility by announcing an electric chair that can reach up to 38 km/h (24 miles per hour) at CES 2020: the Segway S-Pod. The sedan chair has a joystick to control the velocity and direction of the travel, but it can also be controlled remotely through a tablet.
You can learn more about Ninebot Segway S-Pod by clicking here.
Dell concept PCs
Besides its first 5G laptop, Dell also showcased three concept PCs at CES 2020. The first is named Concept UFO and it is a modular PC with the form factor of the Nintendo Switch. It features two removable controllers and it can be used both as a laptop and a desktop computer. The second concept is called Concept Duet and it is a dual-screen PC with two 13.4-inch displays. Last but not least Concept ORI, a PC with a foldable display just like Lenovo ThinkPad X1 Fold, boasting a 13-inch monitor while unfolded.