Apps have become a fundamental part of our daily life. We have apps for almost everything on our smartphones. Due to lockdowns, people around the world are spending more time on their handsets than ever before. This has led to the rise of app downloads. According to a new report, despite stresses from various governments, TikTok was still the most downloaded app on both the Apple App Store and Google Play Store in July 2020.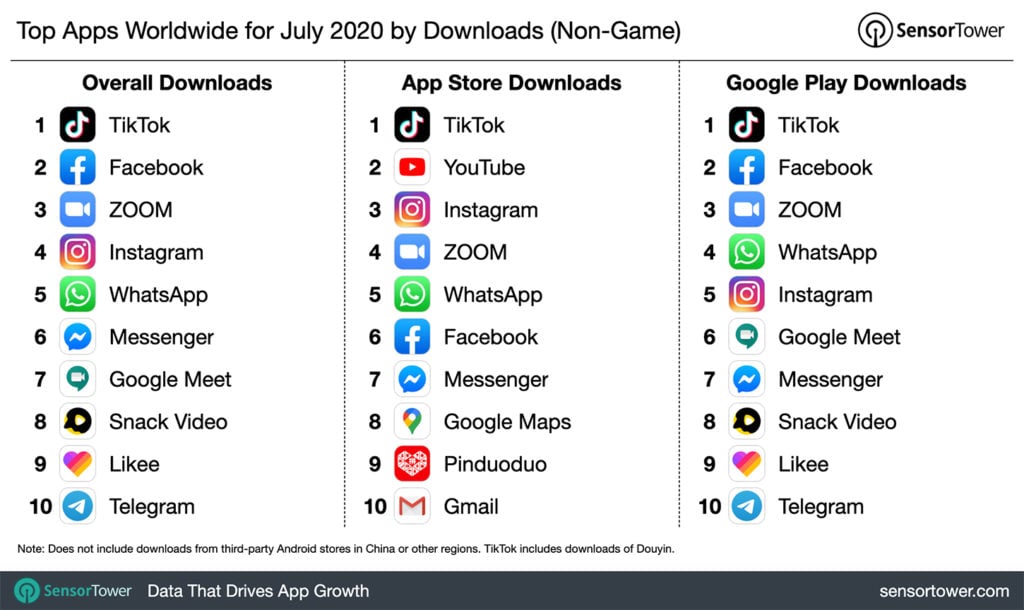 Sensor Tower is a well-known app analytical research firm. It releases a public report on top app downloads every month. The report for July 2020 is out and it mimics the previous month's report with some minor changes.
The top 5 overall app downloads still include the same apps from last month and they are TikTok, Facebook, Zoom, Instagram, and WhatsApp respectively. Also, TikTok led the chart on both App Store and Play Store with more than 65.2 million downloads (combined).
Due to the ban of TikTok by the Indian government, its alternatives are on the rise since then but only two of them reached the top 10 chart. The first one is Likee at the ninth position and it has been part of the top 10 before.
The second one is Snatch Video with about 28.8 million downloads securing the eighth position. This app managed to enter the elite list for the very first time. For comparison, it was only downloaded 7.8 million times in June, which is 3.5 times lower than its July count.
Having said that, it is not sure how long TikTok will continue to lead the chart as it is expected to be banned by the US government if no American company buys it.
ALWAYS BE THE FIRST TO KNOW – FOLLOW US!