The Mi 11 has gone on sale in China already and the flagship phone is the first from the manufacturer to not ship with a charger and USB cable in the box. However, Xiaomi has provided another option for buyers to get these accessories at no extra cost. Now, it appears some buyers have found a way to get the charger for practically free without purchasing the phone.
If you choose the bundle that comes with a charger and cable, you get a 55W Xiaomi GaN charger which costs ¥99 (~$15) if you were to purchase it separately. According to the Chinese online publication, MyDrivers, some buyers have figured out that they can get the charger for just ¥0.01 (~$0.0015) without having to hold on to the phone.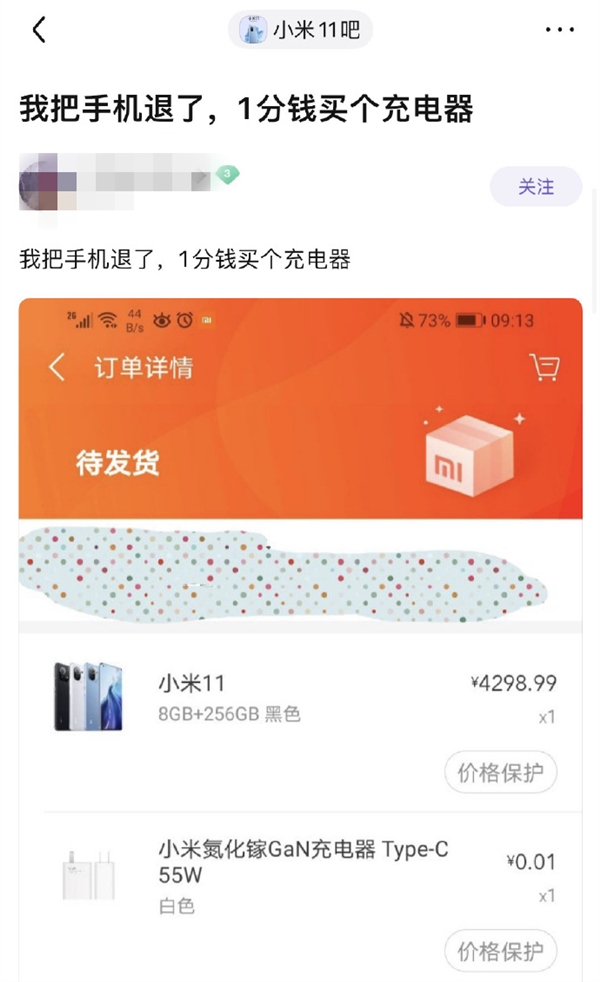 Apparently, when you select the Set Edition which is what the bundle with the accessories is called, the checkout page lists the order as two separate items. As seen in the image above, the buyer chose to purchase the 8+256GB Set Edition which is priced at ¥4299 (~$658) but at checkout, it is listed as two separate items – the phone itself has a ¥4298.99 price tag and the 55W GaN charger has a ¥0.01 (~$0.0015) price tag.
EDITOR'S PICK: Best Concept Smartphones of 2020: OPPO, Xiaomi, Vivo, & More
Some buyers have decided to take advantage of this listing format to order for the Set Edition, then return the phone while holding on to the charger. So when they get refunded, they get the money for the phone which is ¥4298.99 while holding on to the charger which they practically got for less than a Yuan.
Seeing as the phone just went on sale on Friday, we do not think that any of the buyers that decided to return their orders have gotten a refund yet so we cannot verify the info. Some are of the opinion that it is not possible to return the phone without returning the charger since it is a set while others hold the opinion that the full price of the charger will be deducted, so the buyer gets a refund of ¥4200 instead of ¥4298.99. The latter doesn't seem possible since the phone doesn't have a price tag of ¥4200.
Do you think Xiaomi should not have separated the items in the bundle? Or do you think it should add a disclaimer that a returned order should include all items that arrived with the said order? Let us know what you think in the comment box below.
ALWAYS BE THE FIRST TO KNOW – FOLLOW US!