Alongside the Mi 10, Xiaomi will announce the Mi 10 Pro. As with most phones with the "Pro" or "Plus" suffix, the Mi 10 Pro is expected to have better specifications and features than the standard version. Ahead of the launch of the phone next month, its key specs have become public, thanks to a screenshot of the device's "About Phone" section.
The image was sh ared on Twitter by Xiaomishka (@xiaomishka), an account known for posting Xiaomi-related news.
According to the info in the image, the Mi 10 Pro has a 6.4-inch display with a 2080 x 1080 resolution. It has a Snapdragon 865 processor powering it and it is paired with 16GB of RAM and 512GB of storage. Based on this configuration, we believe this is the most powerful variant.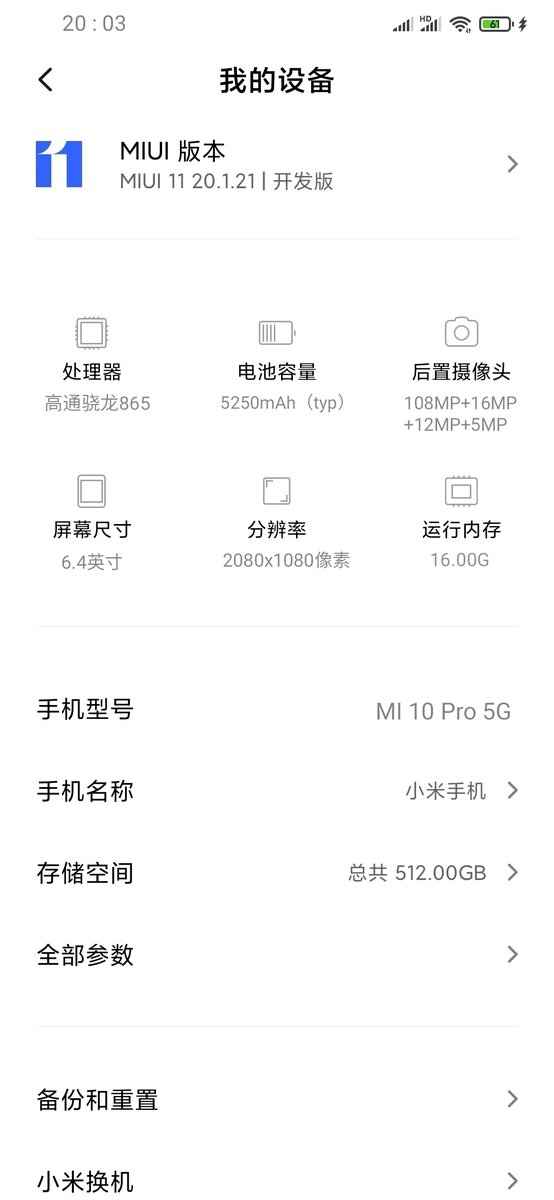 Xiaomi is not the only manufacturer that will release a phone with 16GB of RAM. Samsung's upcoming Galaxy S20 Ultra 5G will also have a version with 16GB of RAM.
The Mi 10 Pro not only has a large memory and storage, but it also has a 108MP camera as one of the sensors that make up the quad cameras on its back. The other three sensors are a 16MP camera, a 12MP camera, and a 5MP camera. There is no mention of the selfie camera.
To top it off, Xiaomi has put a massive 5250mAh battery inside the Mi 10 Pro. This is the biggest battery capacity we have seen in a Xiaomi flagship but not the biggest it has put inside a phone. That title still belongs to the Mi Max 3 which launched with a 5500mAh battery. The Mi 10 not only has a big battery but it has been confirmed that it will support 66W fast wired charging
The screenshot also shows the device is running MIUI 11.20.1.21. Of course, the Mi 10 Pro is expected to run Android 10 out of the box.
It has been confirmed that the Mi 10 series will launch this quarter but its exact date remains unknown though a leaked poster says the date is February 11. However, we advise you to take the date with a pinch of salt as you will the aforementioned specs.
(Source)