Samsung has teamed up with SK Telecom to unveil the Galaxy A Quantum. The phone is a 5G smartphone whose major highlight is the quantum random number generation (RNG) chipset for improved security which it packs.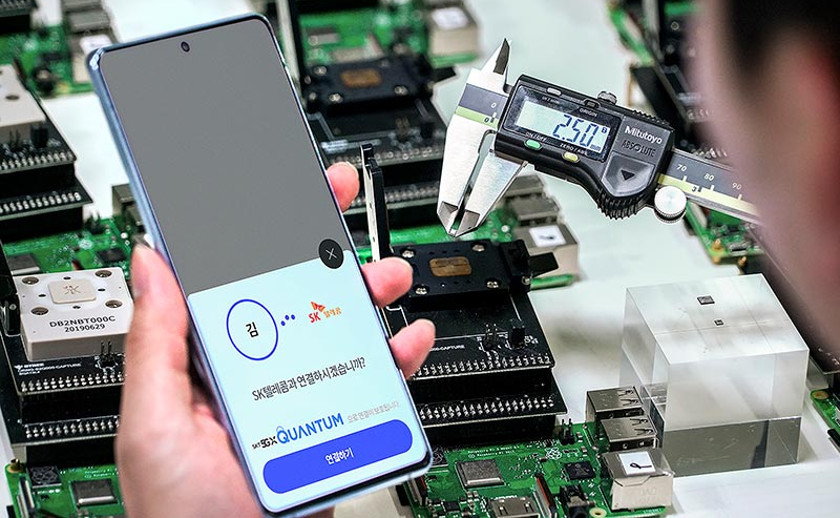 In a press release by SK Telecom, the company disclosed that; "The quantum random number generation chipset helps smartphone users safely use specific services by generating unpredictable and patternless pure random numbers."
The new phone bearing the quantum RNG chip seems to be a rebadged Galaxy A71 5G variant powered by an Exynos 980 5G chipset and paired with 8GB of RAM and 128GB of storage. The phone bears a large 6.7-inch FHD+ display with a front punch-hole for the selfie camera. At the rear, there is a Quad-camera setup and you get a 4,500mAh battery onboard.
The quantum RNG chip has an on-board CMOS image sensor to detect photons, with this being the basis for the random number generation used for encryption keys. The chip comes into play when the user first logs into the carrier account on the device. The network then undergoes Quantum-based OTP authentication.
The Galaxy A Quantum chip is also touted to function as a secure bank for storing personal documents such as insurance documents, graduation certificates in order to prevent forgeries and general falsification. In addition, the quantum RNG chip will in future be deployed in conjunction with biometric-backed mobile payments at offline retailers.
"When a user of Galaxy A Quantum sets biometric authentication with 'SKT 5GX Quantum' in the SK Pay app, you can see the message 'SK Pay is protected with SKT 5GX Quantum' at the top of the smartphone screen when using the app," SK Telecom explained.
As for the pricing and availability, the Galaxy A Quantum will be up for pre-order from May 15 -21 in South Korea. The official sales will commence on May 22. The phone is priced at 649,000 won (~$529).
ALWAYS BE THE FIRST TO KNOW – FOLLOW US!