Advertisement
Apple finally launched its next-generation iPhone 12 series which includes four models — iPhone 12, 12 Mini, 12 Pro, and 12 Pro Max. With the launch of this new lineup, the company has also ditched the charger and Earpods from the box.
Now, Samsung, which is the world's leading smartphone brand, has taken to social media channels to mock Apple over its move of removing power adapter from the retail box. Through posts on social media, the company points out that the Samsung Galaxy series smartphones continue to ship with a power adapter.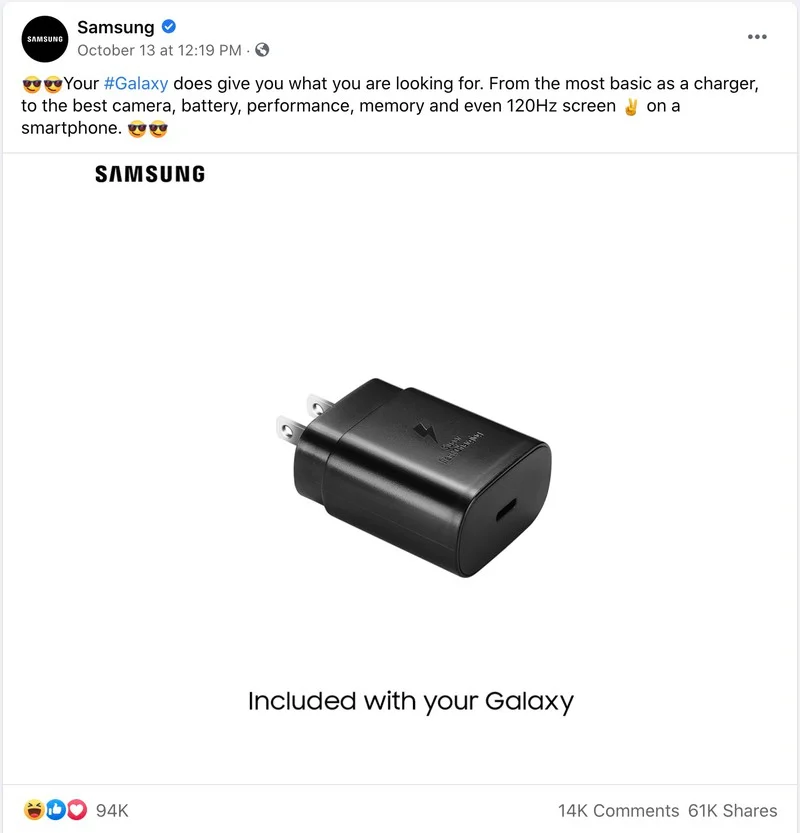 Advertisement
It's noteworthy that Apple not only removed the power adapter from the box of the newly launched iPhone 12 models but also for the older models. So, even if someone buys the iPhone 11 series, there won't be a charger included.
Many are criticizing Apple for the move, which the company claims is for environmental purposes. But it seems that the company is just using the excuse of the environment to remove the power adapter from the box and force users to buy it separately.
EDITOR'S PICK: Samsung Galaxy S21 powered by Snapdragon 875 SoC passes through 3C certification; packs 25W charger
Apple's iPhones ship with just a USB-C to Lightning cable which won't be compatible with the USB-A power adapters that Apple has shipped with almost every iPhone since 2007. So, most of the existing iPhone users who would be upgrading won't have a USB-C power adapter, forcing them to shell out more money to get one.
If Apple was really concerned about the environmental impact of power adapters, the company could have opted for a USB-C charging port on the iPhones, ditching its proprietor Lightning just like it did with the iPad Pro.
Samsung, which is mocking Apple for removing power adapter from the box, is reportedly planning to do the same for some of its devices from next year. However, it's just a rumor at this point in time and we'll have to wait and see how it goes.
ALWAYS BE THE FIRST TO KNOW – FOLLOW US!
Advertisement