Just last month, Samsung rolled out an update to Galaxy A51 and Galaxy A71 globally with features from the Galaxy S20 series. Now, once again, the company announces a new feature called AltZLife specifically for the Indian variant of these handsets developed by a team of young engineers at Samsung R&D Institutes in Bangalore and Noida.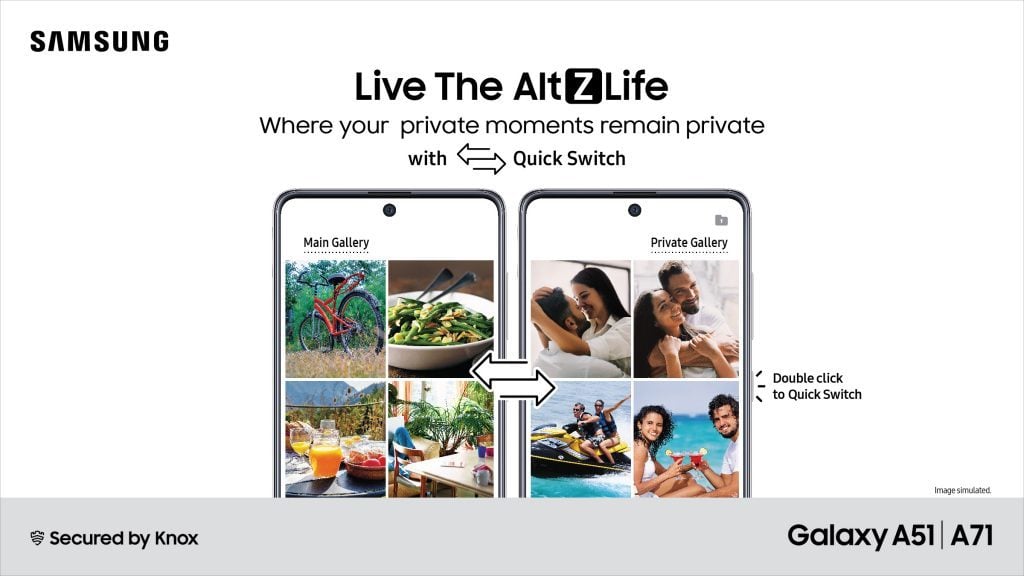 Alt key on Windows computers is used in shortcut combination with Tab key to switch between running applications. In a similar fashion, Samsung's AltZLife feature will let users switch between normal and private mode on their smartphones by double-pressing the power key.
The engineers at Samsung came up with this feature using insights from consumer research. According to a research conducted by the company, 79% of Gen Z customers admit to having content on their smartphones that they don't want their family or anyone else to access it. This led to the development of "Make for India" features – "Quick Switch" and "Content Suggestions" as part of AltZLife.
Samsung already offers "Secure Folder" powered by "Samsung Knox" security to store valuable private data (pictures, videos, documents, etc), apps and even duplicate apps. The new "Quick Switch" feature allows users to quickly switch between the private space (Secure Folder) and normal space (regular homescreen, app drawer, and apps) quickly by double-pressing the power key.
F or instance, if a user is on their private WhatsApp
This action can be carried out on any screen and its function changes accordingly. If the user double presses the power key inside an app for which they have a duplicate version, then the action will let them switch between the two instances of this app like the above example.
Whereas, if they carry out the action on home screen or app drawer, the phone will launch the Secure Folder. It is worth noting that the system prompts authentication while switching between two spaces. Hence, no other people can access the private data of users.
On the other hand, "Content Suggestions" when enabled automatically identifies faces and categories of images the user had earlier selected private with the help of on-device AI and moves them to "Secure Folder". Therefore, users no need to worry about adding them manually.
These two features are currently limited to the Indian variants of Galaxy A51 and Galaxy A71. Samsung has already begun the rollout of the OTA update that adds the above-mentioned two features.
ALWAYS BE THE FIRST TO KNOW – FOLLOW US!