While the rest of us are eagerly waiting to get a glimpse of the coveted Samsung Galaxy Z Fold2, a Chinese reviewer has already published his review video. The video was also posted on YouTube through the Inspiration Institute channel and gives us our best look at the second-gen Galaxy Fold in just under 5 minutes.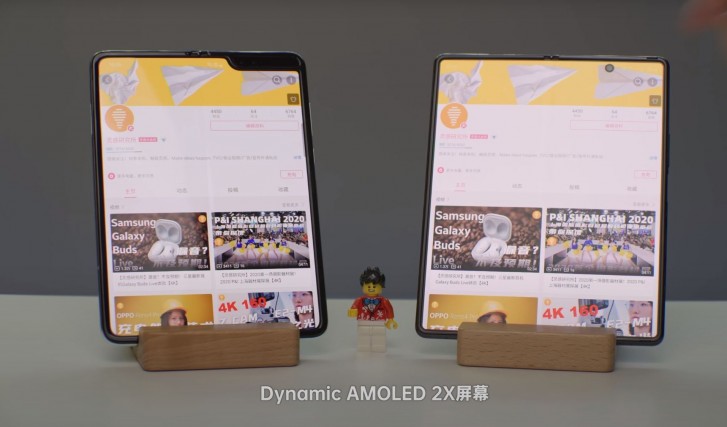 The tall 60Hz 6.23-inch cover display with its 25:9 aspect ratio is a major upgrade over the first gen Fold's 4.6-inch external panel. It offers all the functionality of a regular non-folding phone so you don't have to constantly resort to the main 7.6" panel. We can also see the Samsung logo on the hinge is centered this time whereas the original Galaxy Fold had it on the top corner.
At the 1:54 mark, we get the phone's AnTuTu score of 588,850. The review then shows out the Z Fold2's sound output capabilities. The dual stereo speakers get plenty loud and eclipse the first Fold as well as some recent flagships. We're also getting more details on the three 12MP rear cameras including a breakdown of their exact sensors. The main shooter is Sony's IMX 555 with OIS while the other two sensors are Samsung's S5K3L6 ultrawide and S5K3M5 telephoto modules.
Samsung has added a new vlog mode this year which takes advantage of the rear shooters for their better image quality and turns the outward display into a viewfinder.
Flex Mode UI adds plenty of versatility for the camera app. We can see it allows for camera controls on the right one side, a viewfinder on the left and a live preview on top at the 2:53 mark. There's also a neat "tent-mode" which is useful for pulling up navigation in cars and keeps the main inside display turned off to preserve battery life.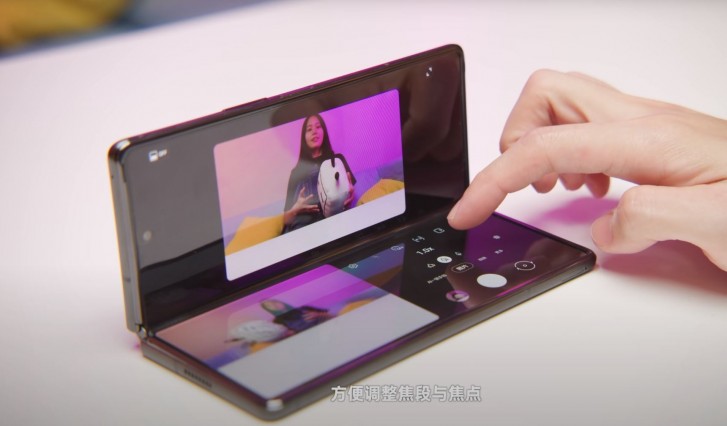 There's also no way to hold the Z Fold2 wrong as the UI works in all four directions and even upside down. The reviewer mentioned the 4,500 mAh battery performed adequately through his testing period was not long enough for detailed observations.