The Samsung Galaxy S21 series smartphone has seen strong initial sales in the US and has outperformed its predecessor, the Galaxy S20 series. Now, a new report has revealed that the base Galaxy S21 sales have doubled over the Galaxy S20 within the first six weeks of launch.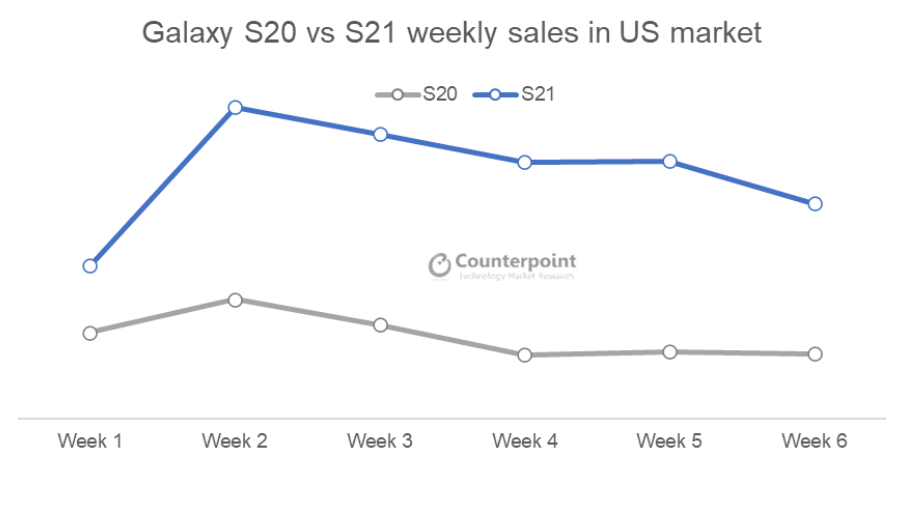 As per a CounterpointResearch report, there were various reasons for the latest versions seeing better sales across the different models. This includes the fact that the base model started from a lower price tag of 799 US Dollars and even had strong support from US based carriers. Furthermore, the coronavirus pandemic had also hampered the initial launch phases of the Galaxy S20 series last year, which also helped boost S21 series sales in the following year.
Notably, there was also a change in the model mix and their sales, as per Counterpoint's US Research Analyst Maurice Klaehne. The researcher noted that "There has been a significant change compared to last year in terms of the model mix, with one-third of S21 Series sales coming from the base model S21. Lower cost coupled with trade-in offers that essentially make the S21 device free, is helping increase demand for these 'entry-level' flagships."
He further added that "Samsung also got the camera configuration on the base model right, giving it three on the rear to match up with the deluxe S21 Plus." The report also found that most customers did not mind the plastic back, while the lack of a charging brick in the box was only a 'mild annoyance' to some customers and was not a deal breaker overall.
RELATED:
ALWAYS BE THE FIRST TO KNOW – FOLLOW US!