Samsung's latest Galaxy Note 20 Ultra has been put through Zack Nelson's durability test. The evaluation sees the phone undergoing several categories of testing to determine its durability which includes scratch, bend and burn tests.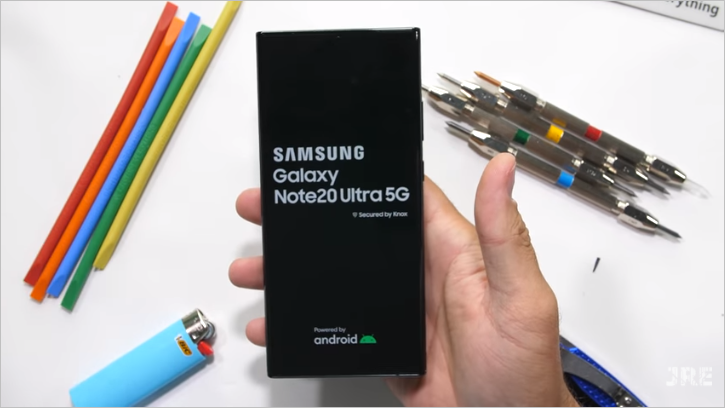 The first test is usually the scratch test beaming the searchlight on Corning's latest Gorilla Glass Victus which features on the Not 20 Ultra first. The test using the Mohs hardness scale shows the device started getting some scratches at level 6 with deeper grooves at level 7. That is because Victu is still glass but with more strength.
The LED screen didn't recover from the burn test which leaves a chunk of the display permanently damaged. The display still works fine and even with scratches, the under-screen fingerprint sensor still works perfectly.
Further, the phone handles the bend test pretty well with no damage when pressure is applied. The durability test also afforded us an opportunity to take a look at the S Pen stylus and other components crammed inside the body including a tiny lithium-titanate (LTO) battery at the top and charging coil near the tip of the pen.
You can check out the durability video from below.
ALWAYS BE THE FIRST TO KNOW – FOLLOW US!