South Korean giant Samsung was dominating the Indian smartphone market for years, until the Chinese company Xiaomi managed to overtook in late 2017. Since then, Xiaomi has been a leading smartphone brand in India in almost every quarter.
However, that has now changed. Samsung has managed to dethrone Xiaomi in the third quarter of 2020, i.e. in Q3 2020, clinching the lead position in the Indian smartphone market, as per the Counterpoint report.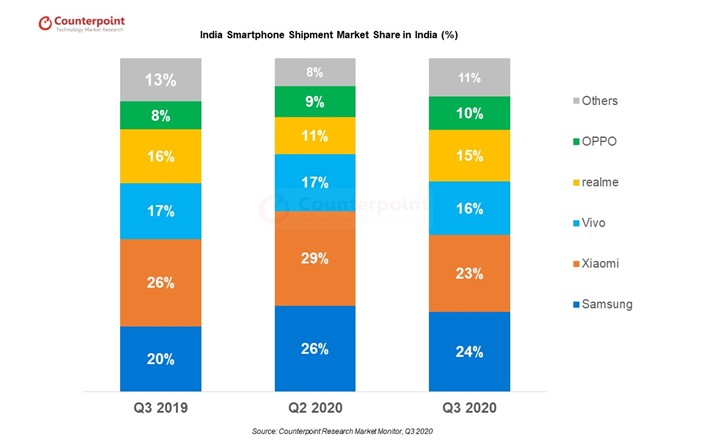 The report reveals that Samsung managed to grab 24 percent of the smartphone market share while Xiaomi grabbed 23 percent of the market in India. The South Korean giant witnessed 32 percent YoY growth and managed to surpass the pre-COVID level in terms of smartphone shipments.
The company has been trying to get back to the pole position and as a part of that plan, it also refreshed its entry-level and mid-range offerings in the market. It updated the Galaxy A-series and launch Galaxy M-series phones in India. The company has covered almost every price point in the market and has been aggressively pushing its devices using online as well as offline channels.
EDITOR'S PICK: Xiaomi surpasses Apple to become the world's third-biggest smartphone brand in Q3 2020
On the other hand, Xiaomi slipped to the second position for the first time since Q3 2018 as the company witnessed a 4 percent YoY decline in shipments. This could be because of supply chain issues due to COVID-19
Advertisement
as well as anti-China sentiments among consumers.
Vivo, Realme, and OPPO took the third, fourth, and fifth positions in the market respectively, with the companies getting 16 percent, 15 percent, and 10 percent market share respectively. While Vivo and Realme grew by 4 percent, OPPO
witnessed a massive 32 percent growth.
The report also reveals that Apple surpassed OnePlus to become the leading smartphone brand in the premium segment while OnePlus led the affordable premium segment. Counterpoint clarifies that the premium segment includes devices priced between Rs 30000 to Rs 45000 while affordable premium devices are priced between Rs 20000 and Rs 30000.
ALWAYS BE THE FIRST TO KNOW – FOLLOW US!
Advertisement