Strategy Analytics has released a research report which projects how the smartphone market will rebound post-COVID 19. The report shows that the smartphone market will rebound in 2021 with expected shipments of 1.38 billion units, representing +6.5% growth over last year's shipments.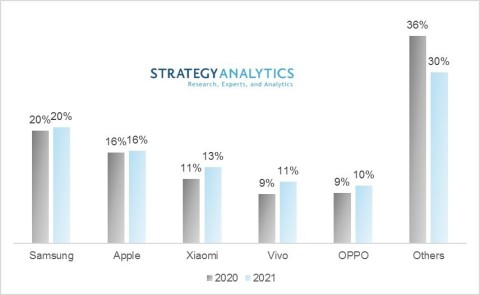 The growth is expected to be driven mainly by a resurgence in the global economy as the effect of the COVID-19 pandemic on the global economy abates. Also, the number of old smartphones in circulation has reason partly due to the penchant of users to hold on to their phones longer than before and the effect of the pandemic on the economy last year. Thirdly, the aggressive push by OEMs to produce 5G phones in segments other than the flagship category. Now, there are 5G mid-range and even affordable models.
Strategy Analytics' Smartphone Analyst Abhilash Kumar also disclosed that the firm expects Xiaomi to emerge as the third-largest global smartphone vendor, replacing Huawei. This projection is based on the Chinese brand's positive performance in the Indian and Russian markets. The company has also made an aggressive push in Central & Eastern Europe and Western Europe.
Linda Sui, Senior Director at Strategy Analytics, added that 2021 was going to be the year of Chinese smartphone vendors. He also noted that the trio of Vivo, Xiaomi, and OPPO are expected to become top 3 players "driven by aggressive marketing, expanding channel footprints, and competitive pricing."
Furthermore, the report stated that Transsion Holdings will emerge as the largest vendor ]in Africa & Middle East, ahead of Samsung. While Samsung will occupy the second spot, Xiaomi will hop into the third spot.
Xiaomi is also expected to cement its hold on the third spot in Western Europe, behind Apple and Samsung.
RELATED;
(source)
ALWAYS BE THE FIRST TO KNOW – FOLLOW US!