Some feeds monitored on Reddit have indicated that Roku may soon unveil a rechargeable remote control for its set-top boxes called the Roku Voice Remote Pro. The Roku Voice Remote Pro does not need the AAA batteries as it has a built-in battery that is rechargeable using a USB cable.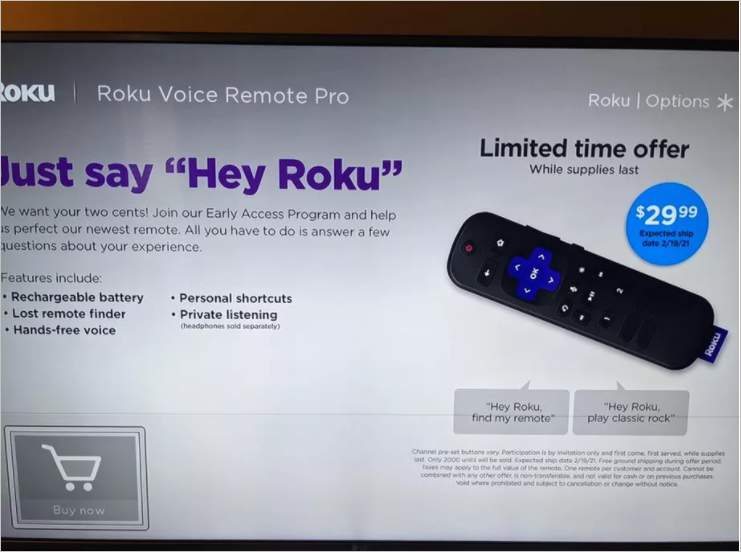 With the new Roku rechargeable remote control, the days of looking for your misplaced remote without success are gone, as there is a lost remote finder feature on the device which enables the user to provide voice commands to help notify and ping the remote. This means that the new Roku remote control has a microphone that would be capable of picking voice commands from its range.
The soon to be released rechargeable remote control also has two programmable buttons, in addition to the four pre-programed buttons that could be used for streaming services.
In addition, the Roku Voice Remote Pro which sells for $30 has an audio jack for a more compelling listening experience, as well as customizable shortcuts that could mean a user can create shortcuts on the device to suit his aesthetics and desires.
The several impressive features of the Voice Remote Pro puts it in a seemingly sound footing to catch the fancy of Roku users and even draw new customers.
Reddit users who had the opportunity of testing the new device have given it the thumbs up, as it has been getting rave reviews and comments.
According to a Roku spokesperson, the company is always working on introducing new products and features to its customers, that is why it has a policy of public testing of new products among a small set of its growing customers. The feedback has always been useful in further development and advancement of products.
RELATED;
ALWAYS BE THE FIRST TO KNOW – FOLLOW US!