A new wearable device has been developed by researchers at CU Boulder. This device is unique since it is capable of transforming the human body into a biological battery, since it is powered by the user itself.
According to a SciTechDaily report, the device is described as a low cost wearable gadget that is stretchable as well. Meaning, it can be worn as a ring, a bracelet, and more different kinds of accessory that touches one's skin. The wearable product taps into a person's natural heat. In other words, it uses thermoelectric generators to convert the body's internal temperature into electricity.
Jianliang Xiao, senior author of the new paper and an associate professor in the Paul M. Rady Department of Mechanical Engineering at CU Boulder stated that "In the future, we want to be able to power your wearable electronics without having to include a battery." Furthermore, this device can generate about 1 volt of energy for every square centimeter of skin space. This is less voltage per area than what existing batteries provides, but it will still be enough to power products like fitness bands and watches.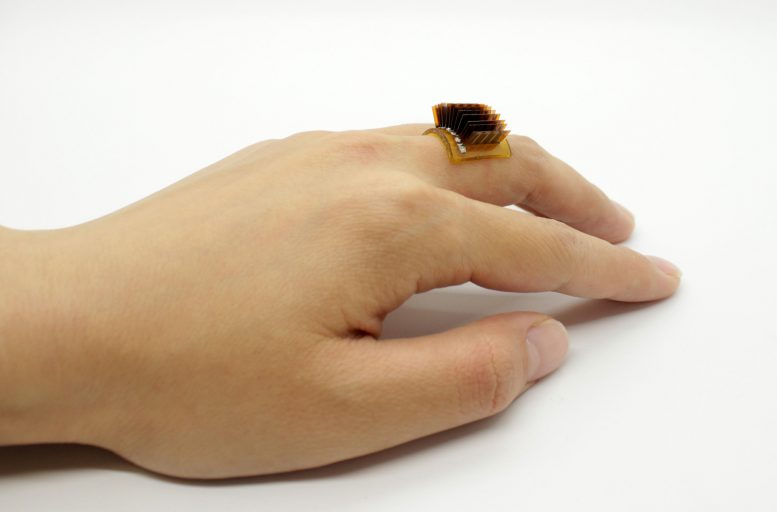 The wearable device can also heal itself when damaged and is fully recyclable along with being stretchable. This also makes it a cleaner alternative to conventional electronics. Xiao further added that "Whenever you use a battery, you're depleting that battery and will, eventually, need to replace it. The nice thing about our thermoelectric device is that you can wear it, and it provides you with constant power."
RELATED:
ALWAYS BE THE FIRST TO KNOW – FOLLOW US!