OPPO R&D team had first detailed the development of the under-screen camera technology last year. The OPPO Find X2 was expected to pioneer the Camera-Under-Panel (CUP) technology but earlier this month when Shen Yiren was teasing the Find X2, he stated that he would consider mass production. The statement fueled speculations that the under-screen camera may likely not feature on the Find X2. Redmi's GM Lu Weibing has also added his voice to the discussion about under-screen camera technology.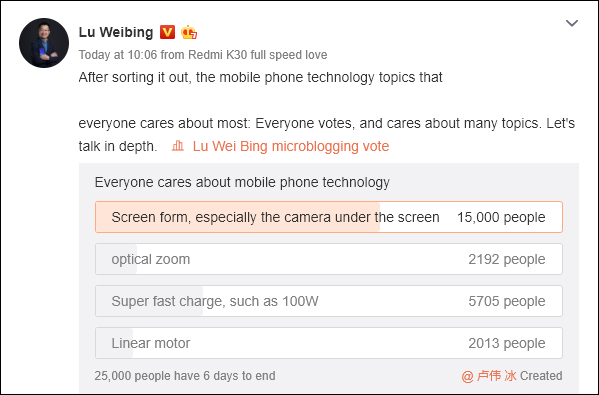 Weibing released an epistle on Weibo which explains why the technology may not come now. He categorically stated that Camera-Under-Panel (CUP) is far from mass production. The post was preceded by an opinion poll which he conducted to find out what features fans cared about the most. The options were screen form with particular reference to camera under the screen. Others options are optical zoom, Super-fast charge such as 100W and linear motor. As at the time of filing this report, over 25,000 persons have responded. The screen form(Camera-Under-Panel (CUP)) option is by far the most popular with 15000 persons voting for it.
However, Weibing was quick to release an essay defus ing expectations in that regard. He stated that with the current technical capabilities, he could not find an effective solution that combines display effects and camera effects. There is still a long way to go to achieve mass production.
The Redmi GM threw more light on the benefits of CUP, stating that its application on mobile phones can achieve the real full-screen effect without sacrificing space, but there are still many difficulties currently that hamper the implementation of the technology. Simply put, it is the contradiction between the screen's PPI and transmittance.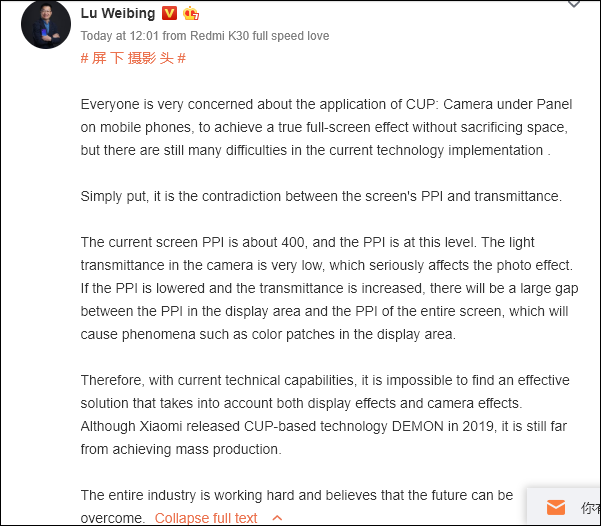 The current screen PPI is about 400 and the light transmittance in a camera is very low. Putting a camera lens under such screen will seriously affect the photo effect. If the PPI around the camera area is lowered and the transmittance is increased, there will be a large gap between the PPI in the camera zome and the PPI of the entire screen. This will cause phenomena such as colour patches in the display area.
Thus, with the current technical capabilities, it is impossible to find an effective solution that takes into account both display effects and camera effects. Xiaomi had first released a CUP-based technology demo in 2019 but it is still far from achieving mass production.