Samsung started experimenting with the exclusion of accessories from the retail box of its phones started with the Galaxy Note 20 last year as it didn't offer earphones but shipped them for free to those who requested.
The strategy seems to be gaining more traction after Apple excluded the charger a few months back from all its iPhone devices. Xiaomi followed the suit with its Mi 11, but unlike Apple, it offers an option to customers to have a charger in the box.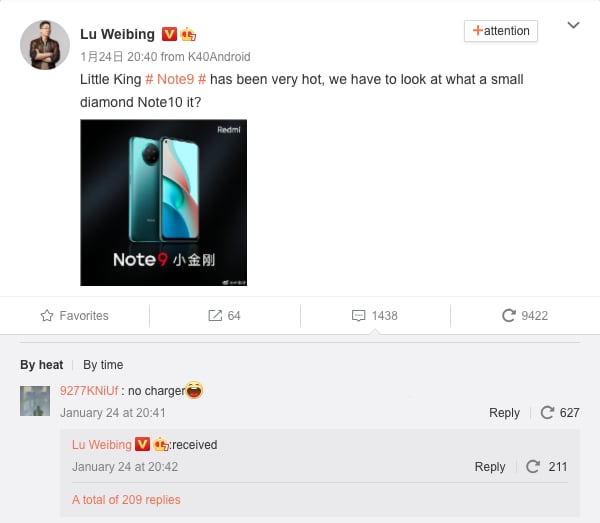 Now, Xiaomi's sub-brand is expected to do the same with the upcoming Redmi K40 series smartphones, if the newly released images are to be believed. It seems that another device from the company is also expected to remove the charger from the box — Redmi Note 10.
Lu Weibing, General Manager of the Redmi brand recently posted on Weibo, asking for suggestions for the upcoming Redmi Note 10 series smartphones. In the comments, some users suggested removing the charger from the box, and to one of those comments, Lu Weibing responded by saying "message received," which indicates that the charger won't be included in the retail box.
Smartphone manufacturers are justifying removing the charger from the box by citing the move as "environment friendly" and claiming that most users already have a charger at home. But they ignore the fact that the charger users might have at home won't be compatible with the latest fast charging technology and to get the advantage of that feature, they will have to purchase a new one.
While the Weibo post may hint that the Redmi Note 10 lineup could be launched soon, we don't expect the official launch at least for a couple of months as the company is currently gearing up to launch the Redmi K40 flagship smartphone by the end of next month, after the Spring Festival in China.
RELATED:
ALWAYS BE THE FIRST TO KNOW – FOLLOW US!