A Realme phone, RMX2170, has been given the stamp of approval by TUV Rheinland, which tested the 65W fast charger for safety (it outputs outputs 6.5A at 10V). The phone has a two cell battery with 2,200 mAh rated capacity per cell (so 4,400 mAh total).
This phone may be the Realme X3 Pro, though other models have been misidentified as the X3 Pro, previously, so it's not entirely certain.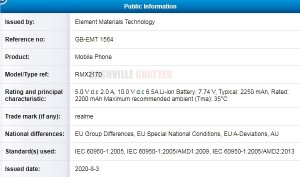 TÜV Rheinland's certification of the RMX2170, perhaps the Realme X3 Pro
The RMX2170 was recently certified by the Wi-Fi Alliance as well with Android 10. It only supported Wi-Fi 5 (ac) while Snapdragon 865 phones support Wi-Fi 6 (ax).
That does line up with the current Realme X3 models, which use a Snapdragon 855+ and support only Wi-Fi 5. It's not a guarantee, however, as the company's S765G-based models also lack Wi-Fi 6 (even though the chipset supports it).