DSCC (Display Supply Chain Consultants) has released its new report on foldable displays for March 2021. According to the report, Samsung and Samsung Display will continue to remain dominant throughout this year, just like 2020. However, unlike the previous year, the shipments will see momentum only in the second half of 2021.
Foldable and Rollable Smartphones Performance Q4 2020
As per DSCC's latest report, shipments of foldable smartphones grew 54% QoQ and 242% YoY in Q4 2020. Samsung Electronics was the leading brand in the fourth quarter of last year with a whopping 91% market share based on units.
Samsung Electronics led the foldable smartphone market throughout 2020 with an 87% unit market share. The overall market shipped 2.2 million units, which is 1000% more, compared to 2019.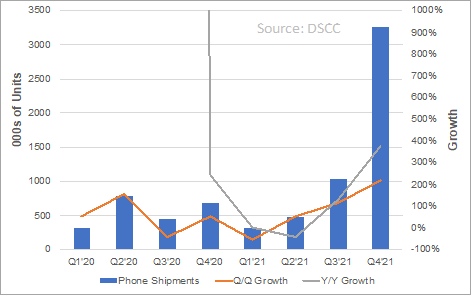 Unsurprisingly, the Galaxy Z Flip was the most-shipped foldable smartphone with a 50% market share, followed by Galaxy Z Fold2. South Korea accounted for more than 50% share of Galaxy Z Flip and Galaxy Z Flip 5G worldwide.
Foldable and Rollable Smartphones Forecast 2021
According to Ross Young, the CEO of DSCC, Samsung Electronics has delayed the launch of its next-generation foldable smartphones until Q3 2021. The South Korean tech giant is expected to release at least three foldables.
The Galaxy Z Fold series could replace the Galaxy Note series as the company's second flagship series after the Galaxy S series. Additionally, the firm is also expected to launch a more-affordable Galaxy Z Flip clamshell foldable smartphone.
Further, Samsung Display, the sister company of Samsung Electronics will start selling foldable displays with UTG (Ultra-Thin Glass) to other brands in H2 2021. A total of at least 12 different foldable and rollable smartphones from 8 brands
Samsung Electronics is forecasted to lead the foldable and rollable smartphone market with an 81% unit share and a 76% revenue share in 2021. On the other hand, Samsung Display's unit market share will increase from 83.5% in 2020 to 87% in 2021 since it will be selling displays to other brands in H2 2021.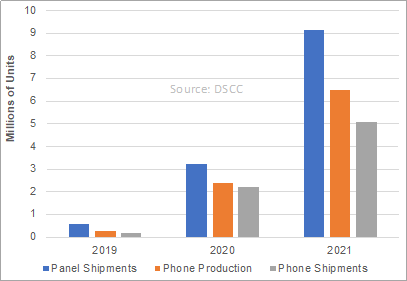 However, the shipments of the entire foldable smartphone market are expected to surge by only 1% YoY and 40% YoY in Q1 2021 and Q2 2021 respectively. But the shipments should shoot up over 100% in the remaining quarters (Q3, Q4).
More than 5.1 million foldable and rollable smartphones are expected to be shipped this year. More than 3 million of these shipments are said to happen in Q4 2021. In other words, unit shipments could grow up to 128% while revenue may increment up to 137% to $8.6 billion, as compared to 2020.
Foldable smartphones with Galaxy Z Fold-like form factor (book-type) are expected to account for 49% of foldable and rollable smartphone revenues in 2021, up from 39% in 2020. That's because new entrants in this category, like Google, Oppo, Vivo, and Xiaomi are reported to release phones with the said form factor.
Last but not least, as per Ross Young, the devices from new entrants will feature in-folding displays as small as 7.1-inch and as large as 8.2-inch, in addition to sub-7-inch clamshell foldable phones.
RELATED:
ALWAYS BE THE FIRST TO KNOW – FOLLOW US!