Chinese tech giant and one of BBK subsidiaries OPPO last year announced what should be the world's first rollable smartphone, aptly referred to as OPPO X 2021 'concept' device. The company went on to state that the product was no vapourware and that the device is more durable than could be imagined. It even backed that up with a durability test. Well, looks like the X 2021 will be commercialized soon. OPPO has given out some units of the concept rollable to Youtubers. We have now come across a couple of review videos of the OPPO X 2021.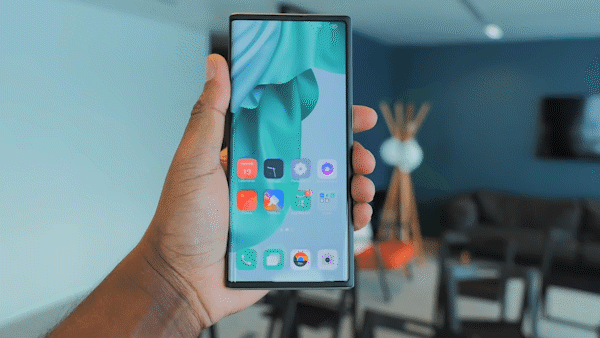 The videos give us our first look at the device in real skin showing us all the externals from the front and rear designs to the rollable mechanism and the user interface. In one of the videos by French YouTuber Brandon LeProktor, the Oppo rollable phone can be seen in all its glory with a spectacular and impressive look.
The video which is in French gives us an idea of how the phone retracts and rolls out at the press of a button. One aspect that would be of concern to many is how the interface is adapted to intuitively transition between the entended and contracted form-factor of the device. The video shows the software changes seamlessly.
A second video by Youtuber Sami Tech Tips provides a hands-on review of the device in English even though it may not the best of accents we've heard. The Youtuber gave answers to some burning questions about the Find X 2021 such as the selfie camera and what happens when you accidentally open it inside your pocket.
Interestingly, there is no selfie camera. Even more interesting is the discovery that the phone will open if the screen is left unlocked inside the pocket and the slide is accidentally triggered. In this situation, it will keep trying to expand even when the space is not wide enough. We believe this is still a work in progress and OPPO will modify that to retract if an obstacle is met.
You can check out both videos from above to get more insight into the OPPO X 2021.
RELATED;
ALWAYS BE THE FIRST TO KNOW – FOLLOW US!