Advertisement
As per the latest data released by Trustdata, the Chinese smartphone maker OPPO is named as the leading smartphone brand in China for the first quarter of 2020 in terms of smartphone shipments.
The report claims that the smartphone shipments from OPPO accounted for around 21.4 percent of the market share, leading the domestic market. The second position was grabbed by Vivo is a market share of 20.5 percent.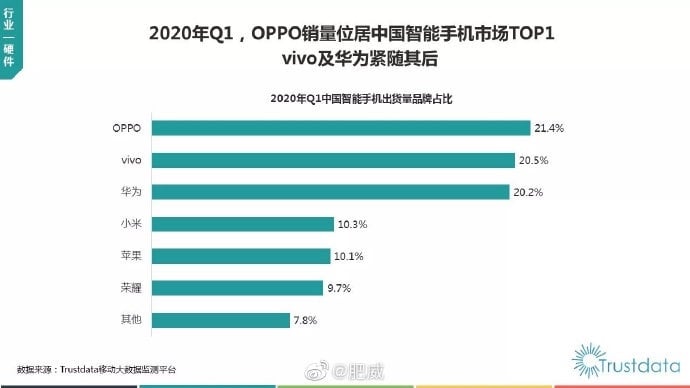 Huawei, on the other hand, comes in at third with a market share of 20.2 percent. Xiaomi and Apple have been placed at the fourth and fifth position, each accounting for 10.3 percent and 10.1 percent market share.
Do note that the report is counting shipments of Huawei and Honor separately and that is the reason Huawei isn't leading this this list. If the shipments of Huawei and Honor are combined, like most data analysis companies do, then the company leads the market with a market share of 29.9 percent.
The coronavirus outbreak has severely impacted the smartphone industry. In the first month of this year, the domestic mobile phone shipments in China sharply fell by 38.9 percent year-on-year with shipments of just 20.8 million units.
The shipments from domestic brands in China fell by 42.9 percent in January 2020. As per the data released by the Chinese government, companies sold around 6.34 million phones in February in China, down 54.7% from 14 million around the same time a year ago.
Advertisement
A couple of months ago, IDC had revealed that it is anticipating a 2.3% decrease in smartphone shipments for this year, down to 1.3 billion. The main portion of 2020 will see a decrease of 10.6 percent YoY and the market is anticipated to just make up ground in the second half with acceleration in 5G adaptation.
ALWAYS BE THE FIRST TO KNOW – FOLLOW US!
Advertisement