If you are searching for a flagship phone to buy, there are several options available from Samsung, Xiaomi, OPPO, OnePlus, iQOO, and Nubia (RedMagic). However, choosing a phone can be difficult when there are plenty of options available.
Today, we are taking two of this year's flagships and pitting them against each other to make it easier for you to choose. The phones are the new OnePlus 8 and the Red Magic 5G which recently went on sale globally.
As usual, we will compare both phones based on the following:
Design
Display
Performance
Battery and Fast Charging
Additional Features
Price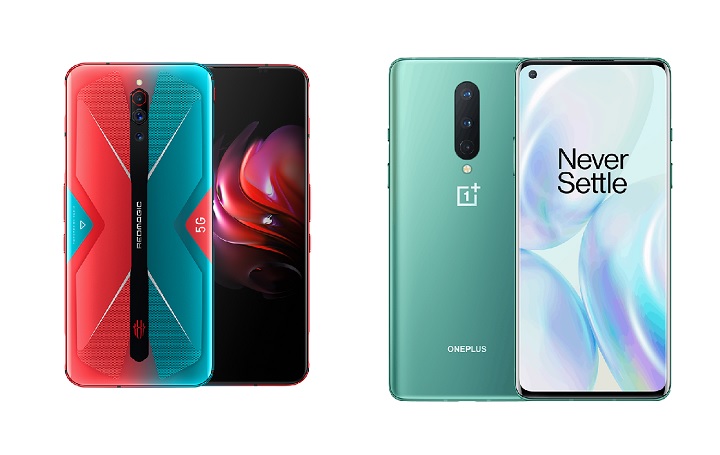 Design
The OnePlus 8 adopts the popular punch-hole display design. Its screen is also curved at the sides which can be a pro or a con depending on the user. On the other hand, the Red Magic 5G sticks to a regular display and keeps the panel flat.
Both phones are covered in glass on both sides and come in pretty and bright colors, though the Red Magic's Hot Rod Red and Pulse colorways will surely turn heads faster than the OnePlus 8. Folks may lean towards the OnePlus because it has a more simple design, unlike the Red Magic Phone which doesn't hide in its design that it is a gaming phone.
Another aspect of the design worth mentioning is the weight and the dimensions. The OnePlus 8 is about 40 grams lighter than the Red Magic 5G though one can say its smaller battery capacity and display plays a part in keeping it light. It is also slimmer at 8mm against the Red Magic's 9.8mm thick body.
Display
The OnePlus has a 6.55-inch 1080 x 2400 AMOLED display with a 90Hz refresh rate and HDR10+ support. The Red Magic 5G has a larger 6.65-inch 1080 x 2340 AMOLED display with a 144Hz refresh rate.
The OnePlus has a higher PPI and also has HDR10+ support but the Red Magic's 144Hz refresh rate and 240Hz touch sampling rate are higher which means games and apps that can take advantage of the high refresh rate will run smoother compared to the OnePlus 8.
While a higher refresh rate is a plus, the OnePlus 8 has a better display with respect to color accuracy. DisplayMate even rates it has one of the best displays in the industry.
Performance
The two phones are powered by the same Snapdragon 865 chipset and come in different RAM and storage configurations. Performance should be the same but it is possible one is smoother than the other based on software optimizations.
The OnePlus 8 has a 48MP f/1.7 primary camera with PDAF and OIS along with a 16MP ultrawide angle camera and a 2MP f/2.4 macro camera.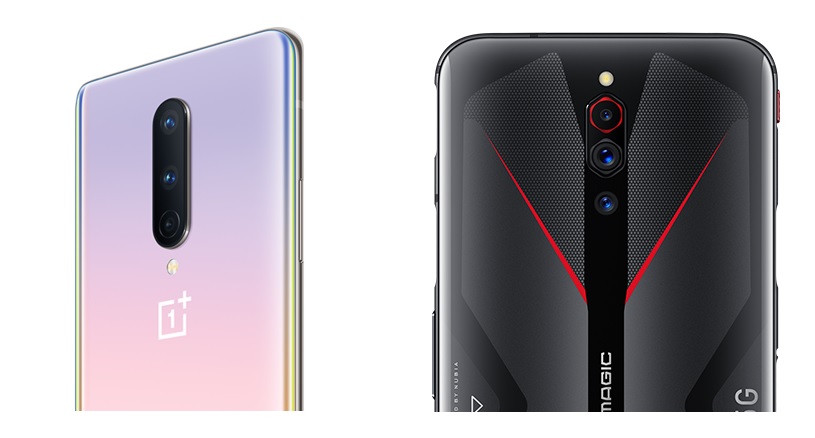 The Red Magic 5G has a 64MP f/1.8 Sony IMX 686 primary camera, an 8MP ultrawide angle camera, and a 2MP macro camera. There is no OIS which means photos and videos will not come out well if you don't have stable hands.
Reviews have revealed the Red Magic takes average photos. The OnePlus 8 is also not a camera beast and is said to be decent at best. However, the presence of OIS is a plus. It should also take better ultrawide angle photos and selfies than the Red Magic 5G.
Battery and Fast Charging
The OnePlus 8 has a 4300mAh battery capacity and supports 30W wired fast charging. The Red Magic 5G comes with not only a bigger 4500mAh battery but also charges faster as it supports 55W wired fast charging. Nubia claims the phone will charge from empty to full in 40 minutes. Sadly, you have to purchase a 55W charger separately for the Red Magic 5G as it ships with an 18W fast charger. OnePlus ships its own phone with a 30W charger.
Additional Features
The Red Magic 5G has a number of additional features that give it an edge over the OnePlus 8. It has an audio jack, a built-in cooling fan, shoulder trigger buttons, 7.1 channel surround sound, 4D shock, and customizable LEDs.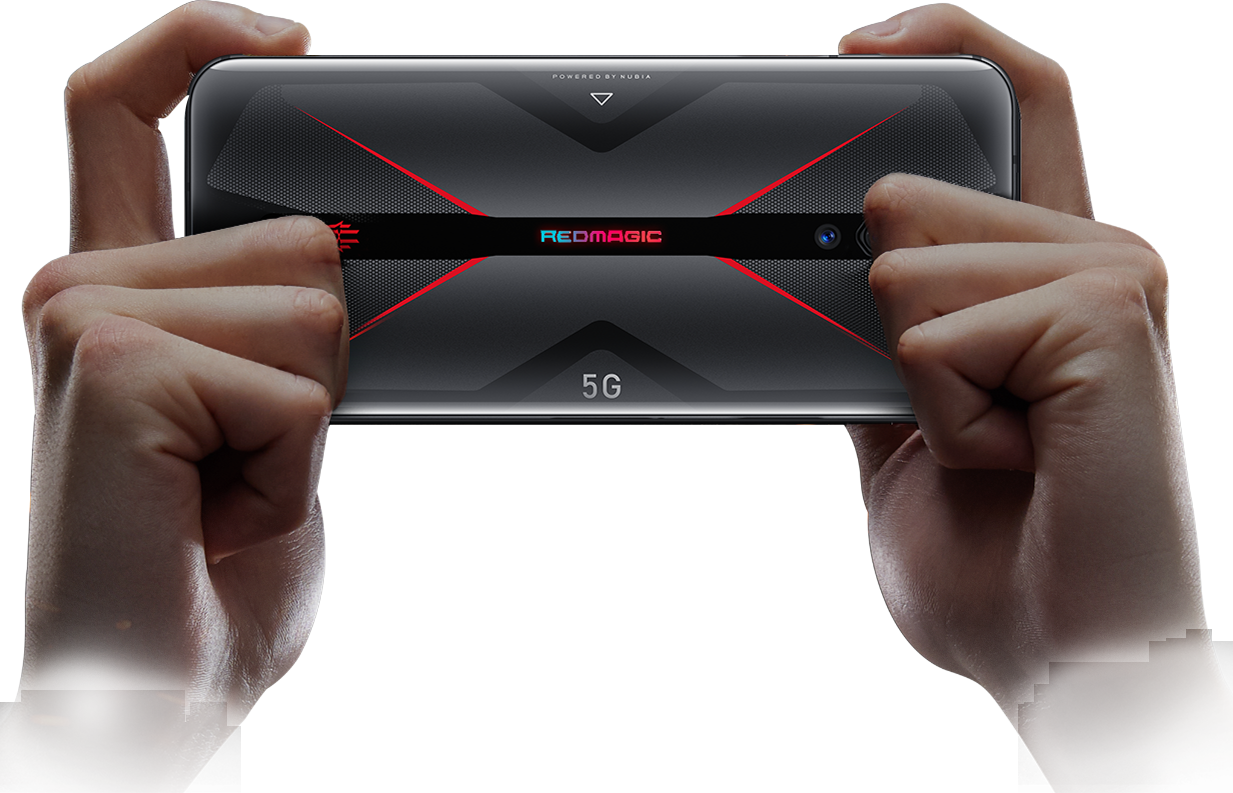 It also supports additional accessories such as the Magic Adapter which has an ethernet port, a USB Type-C port, and an audio jack. With the adapter, you can charge, plug in your headphones, and connect a LAN cable without any of the cords getting in the way while you play games on the phone. Just remember that the Magic Adapter has to be purchased separately.
The OnePlus 8 doesn't have any fancy tricks as it is a regular flagship and not a gaming phone. However, it will handle any game you throw at it. It doesn't have an audio jack but it has stereo speakers like the Red Magic 5G. It will also survive splashes and usage in the rain even though it doesn't have an official IP rating.
One important feature that is worth mentioning is software support that matches that of Google's Pixel phones. The OnePlus 8 and the Red Magic 5G both run Android 10 out of the box but the OnePlus 8 will most likely get updated to Android 11 first. It will also get updated to Android 12 and Android 13, a feat the Red Magic 5G can only dream of.
Price
The Red Magic 5G is currently available for $579/£539/€579 for the 8GB RAM + 128GB version and $649/£599/€649 for the 12GB RAM + 256GB version.
The OnePlus sells for a much higher price in the US, UK, and Europe. It is priced at $699/£599/€719 for the 8GB RAM + 128GB model and $799/£699/€819 for the 12GB RAM + 256GB version.
The Red Magic 5G is not sold in India but the OnePlus 8 is. It starts at INR 41,999 (~$549) for the 6GB + 128GB version; goes up to INR 44,999 (~$588) for the 8GB RAM + 128GB version, and then INR 49,999 (~$653) for the 12GB + 256GB version.
If the Red Magic 5G does make its way to India, we do not think it will sell for lower than the OnePlus 8 as it will be imported into the country, which means import tax and the recent increase in GST for mobile phones will drive the price up.
Conclusion
The Red Magic 5G is quite affordable compared to several other flagships and that is on top of the several additional features it has to offer. Sadly, reviews have revealed it performs averagely when it comes to taking pictures.
Nubia's poor software support is another thing. The Red Magic 3 and Red Magic 3S released last year are still running Android Pie which means the Red Magic 5G may not get updated at all or will receive just one OS upgrade that will arrive pretty late.
The OnePlus 8 sells for more but it tries to justify its price with its higher quality display, better cameras, and OnePlus' software support. It would be an easy recommendation if it sold for slightly less in Europe and the US. Nevertheless, it is one of the top flagship phones you can purchase now.
ALWAYS BE THE FIRST TO KNOW – FOLLOW US!