Nokia 5.4 was launched months ago for the first time, but now, HMD Global launched it in several other regions including India and European countries. The price is still very competitive, but the concurrency is fierce. Is the European brand able to compete with the most competitive phones released by Chinese handsets? There is no better way to understand it than comparing the Nokia 5.4 with the best Chinese devices in the same price range. If you are from India or Europe, you will find a very interesting phone in the same price segment: the Realme 7.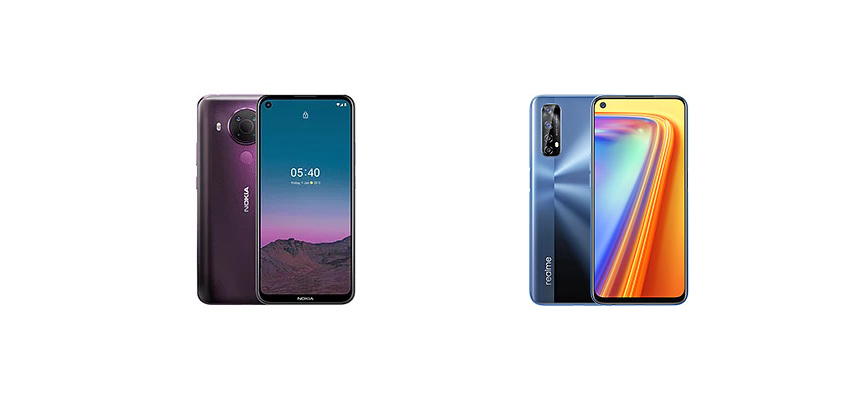 Apple iPhone 12
Realme 7
DIMENSIONS AND WEIGHT
161 x 76 x 8.7 mm, 181 g

Advertisement

162.3 x 75.4 x 9.4 mm, 197 g
DISPLAY
6.39 inches, 720 x 1560p (HD+), IPS LCD
6.5 inches, 1080 x 2400p (Full HD+), IPS LCD
PROCESSOR
Qualcomm Snapdragon 662, octa-core 2.0 GHz
MediaTek Helio G95, octa-core 2.05 GHz
MEMORY
4 GB RAM, 64 GB – 6 GB RAM, 64 GB – 4 GB RAM, 128 GB
4 GB RAM, 64 GB – 6 GB RAM, 64 GB – 8 GB RAM, 128 GB – micro SD dedicated slot
SOFTWARE
Android 10
Android 10, Realme UI
CONNECTIVITY
Wi-Fi 802.11 b/g/n, Bluetooth 4.2, GPS
Wi-Fi 802.11 a/b/g/n/ac, Bluetooth 5, GPS
CAMERA
Quad 48 + 5 + 2 + 2 MP, f/1.8
16 MP f/2.0 front camera
Quad 48 + 8 + 2 + 2 MP, f/1.8 + f/2.3 + f/2.4 + f/2.4
16 MP f/2.1 front camera
BATTERY
4000 mAh
5000 mAh, fast charging 30W
ADDITIONAL FEATURES
Dual SIM slot
Dual SIM slot
Design
Unfortunately, the Nokia 5.4 and the Realme 7 do not offer a premium design. Both are made with a plastic body and they do not feature a glass back, neither an aluminum frame. But they still have a pretty nice look. The advantage of the Nokia 5.4 is its compact size with a slimmer and thinner body. Realme 7 has a better look since it comes with a cleaner back, reflective color variants, and a punch-hole display with a higher screen-to-body ratio. But it is bigger, thicker and heavier due to its bigger display and battery.
Display
Do you need the best display? Then you should definitely go for the Realme 7. First of all, it features a higher resolution than Nokia 5.4: Full HD+, with 1080 x 2340 pixels. Further, it has a higher 90 Hz refresh rate. Last but not least, even the brightness is higher. The Nokia 5.4 has a smaller display which is actually easier to use with one hand, but it has a lower HD+ resolution and a standard refresh rate. For authentication, Realme 7 relies on a side-mounted fingerprint reader, while Nokia 5.4 has a rear-mounted fingerprint reader.
Specs & Software
If you want the highest performance, then Realme 7 is the correct choice for you. It boasts a powerful Helio G95 chipset by MediaTek paired with up to 8 GB of RAM and up to 128 GB of UFS 2.1 internal storage. The Nokia 5.4 has a weaker Snapdragon 662, just 4 GB of RAM, and up to 128 GB of internal storage. What makes the Nokia 5.4 great is the software: it is close to stock Android and it will be supported in the long term, just like other Nokia phones. Both the phones are based on Android 10 and feature a micro SD dedicated slot to expand the internal storage.
The camera departments of the Realme 7 and the Nokia 5.4 are very close. On the rear side, they are almost identical with the exception of the ultrawide sensor: you get a 5 MP ultrawide lens on the Nokia 5.4 and an 8 MP ultrawide camera on the Realme 7. On the front side, both feature a 16 MP selfie snapper, but the Nokia 5.4 has a brighter focal aperture. What really makes the difference is the camera algorithm.
Battery
Realme 7 is the battery champion and it wins the battery comparison thanks to its huge 5000 mAh battery, no matter that it features less efficient hardware components. The Realme 7 also features 30W fast charging bringing the battery from 0 to 100 percent in just 65 minutes, while the Nokia 5.4 has no fast charging at all.
Price
If we consider the Indian market, the starting price of the Nokia 5.4 is Rs. 13,999 for the configuration with 4 GB of RAM and 64 GB of native storage. You can actually get the Realme 7 for Rs. 14,999 in India, in its base variant with 4 GB RAM and 64 GB of storage. In Europe, the Nokia 5.4 is costlier with its €199 price, while Realme 7 starts from €179. Overall, Realme 7 wins the comparison due to the higher refresh rate of its display, higher performance thanks to the Helio G95 chipset, bigger battery, and 30W fast charging. The Nokia 5.4 will most likely have a constantly-updated software department, but the specifications are inferior to the Realme 7.
Nokia 5.4 vs Realme 7: PRO and CONS
Nokia 5.4
PRO
Stock Android
Quick and constant updates
Compact
Thinner and lighter
CONS
Realme 7
PRO
Great hardware
Bigger battery
Wider display
Good street prices
CONS
RELATED
Check the latest videos from our YouTube channel and subscribe:
ALWAYS BE THE FIRST TO KNOW – FOLLOW US!