HMD Global is a big player in the smartphone market but it is often underrated. If you want a phone with stock Android and long-term updates, even in the entry-level segment, you have to choose a Nokia phone. This is the biggest advantage of Nokia devices, but not the only one. The Nokia 5.4 recently debuted in the Indian market with a very attractive price tag and pretty nice specifications. Here, we compared it to one of the best devices in the same price segment and the best which features the same chipset as the Nokia 5.4: we are talking about the best-buy POCO M3 by Xiaomi.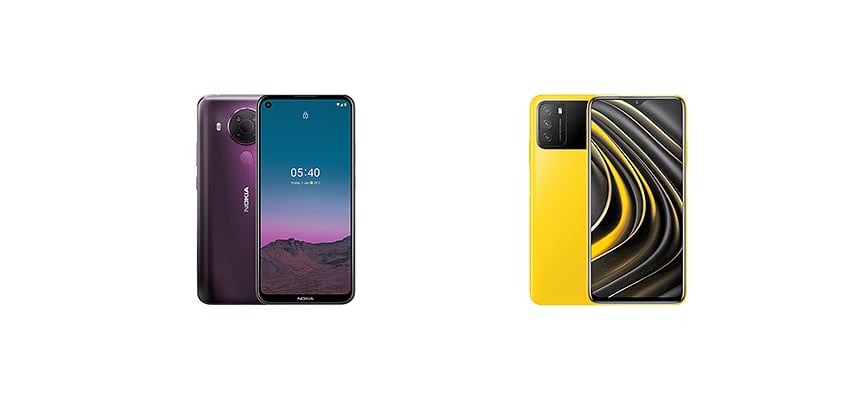 Apple iPhone 12
Xiaomi POCO M3
DIMENSIONS AND WEIGHT
161 x 76 x 8.7 mm, 181 g
162.3 x 77.3 x 9.6 mm, 198 g
DISPLAY
6.39 inches, 720 x 1560p (HD+), IPS LCD
6.53 inches, 1080 x 2340p (Full HD+), IPS LCD
PROCESSOR
Qualcomm Snapdragon 662, octa-core 2.0 GHz
Qualcomm Snapdragon 662, octa-core 2.0 GHz
MEMORY
4 GB RAM, 64 GB – 6 GB RAM, 64 GB – 4 GB RAM, 128 GB
4 GB RAM, 64 GB – 4 GB RAM, 128 GB – micro SD dedicated slot
SOFTWARE
Android 10
Android 10, MIUI
CONNECTIVITY
Wi-Fi 802.11 b/g/n, Bluetooth 4.2, GPS
Wi-Fi 802.11 a/b/g/n/ac, Bluetooth 5, GPS
CAMERA
Quad 48 + 5 + 2 + 2 MP, f/1.8
16 MP f/2.0 front camera
Triple 48 + 8 + 2 MP, f/1.8 + f/2.4 + f/2.4
8 MP f/2.1 front camera
BATTERY
4000 mAh
6000 mAh, fast charging 18W
ADDITIONAL FEATURES
Dual SIM slot
Dual SIM slot
Design
You should not go for so affordable devices if you want a premium design, but the Nokia 5.4 remains a pretty elegant phone. Despite being an entry-level handset, it has a punch-hole display with narrow bezels and a lightweight body. It is more compact and even thinner than the POCO M3, as well as more raffinate. The POCO M3 is definitely uglier with its big camera module and its waterdrop notch making it look like an older phone. While the POCO M3 has a side-mounted fingerprint reader, the Nokia 5.4 has a rear-mounted scanner.
Display
If we look at the quality of the displays, there is no much difference between Nokia 5.4 and Xiaomi POCO M3. Both feature an IPS panel with an HD+ resolution (720 x 1560 pixels), as well as a 400 nit typical brightness. The level of detail is more or less the same, as well as the color reproduction. What changes is the display diagonal: you get 6.39 inches with the Nokia 5.4 and a wider 6.53-inch panel with the Xiaomi POCO M3. This is what makes the Xiaomi POCO M3 more comfortable for power users, but the HD+ resolution may disappoint them.
Specs & Software
Nokia 5.4 and Xiaomi Poco M3 are powered by the same chipset: the Snapdragon 662 by Qualcomm. But with the Xiaomi POCO M3, you actually get better memory configurations. The 128 GB variants of the Xiaomi POCO M3 come with UFS 2.2 native storage and up to 6 GB of RAM, while Nokia 5.4 stops at 4 GB of RAM and it does not have so fast internal storage. On the other hand, the Nokia 5.4 is more interesting in terms of software: it has a stock Android version that will most likely get faster and more constant updates from the manufacturer.
On the paper, the Nokia 5.4 has a better camera setup. It is almost the same as the POCO M3, with a single difference: the Nokia 5.4 has a 5 MP ultrawide sensor, while its rival does not. Further, the Nokia 5.4 has a better 16 MP selfie camera allowing for better selfies, while its opponent has just 8 MP on the front side. After looking at the specs on the paper, there seems to be no doubt about the fact that Nokia 5.4 is a better camera phone, but only if you mind about ultrawide photos and selfies.
Battery
Xiaomi POCO M3 has a much bigger battery than Nokia 5.4: its capacity is a whopping 6000 mAh. And given that Xiaomi POCO M3 has a similar specs sheet to the Nokia 5.4 with the same chipset and almost the same display specifications, its battery life is longer in every scenario. That is not all: the POCO M3 features 18W fast charging and reverse charging, while Nokia 5.4 does not have any of these features. Its battery is smaller and it has standard charging.
Price
Nokia 5.4 carries a starting price of Rs. 13,999 / $193 in India (we are talking about the base variant with 4 GB of RAM and 64 GB of internal storage), while the base configuration of the Xiaomi Poco M3 costs Rs. 10,999 / $151. The Nokia 5.4 is a better phone except for the battery, but the Xiaomi POCO M3 carries a more affordable price. It is not an easy choice giving the long battery life and fast charging offered by the POCO M3, but given that it lets us save money, we would go for it.
Nokia 5.4
PRO
CONS
PRO
Bigger battery
Wider display
Stereo speakers
Reverse charging
Fast charging
CONS
RELATED
Check the latest videos from our YouTube channel and subscribe:
ALWAYS BE THE FIRST TO KNOW – FOLLOW US!