On March 16, Motorola announced the Motorola Razr foldable phone in India. It was originally planned to release in the country on April 2. The date was postponed to April 15 due to the COVID-19 outbreak in the country. However, when April 15 arrived, the company pushed the release date to May 6. There is an updated listing on India's Flipkart retailer site. It mentions a tentative release date of May 8 for the Motorola Razr.
The second lockdown period in India ended on May 3. However, the lockdown has been further extended to May 17 in the country. After conducting a comprehensive review of the current situation of COVID-19 outbreak in India, the government is offering some relaxations with a district-wise zone classification system.
The Red zone which includes some of the major regions of the country like Maharashtra and Delhi. Online retailers like Flipkart and Amazon will continue to sell essential items in the Red zone. The Green and Orange zones can be served with essential and non-essentials. The latter includes items like smartphones, laptops and so on.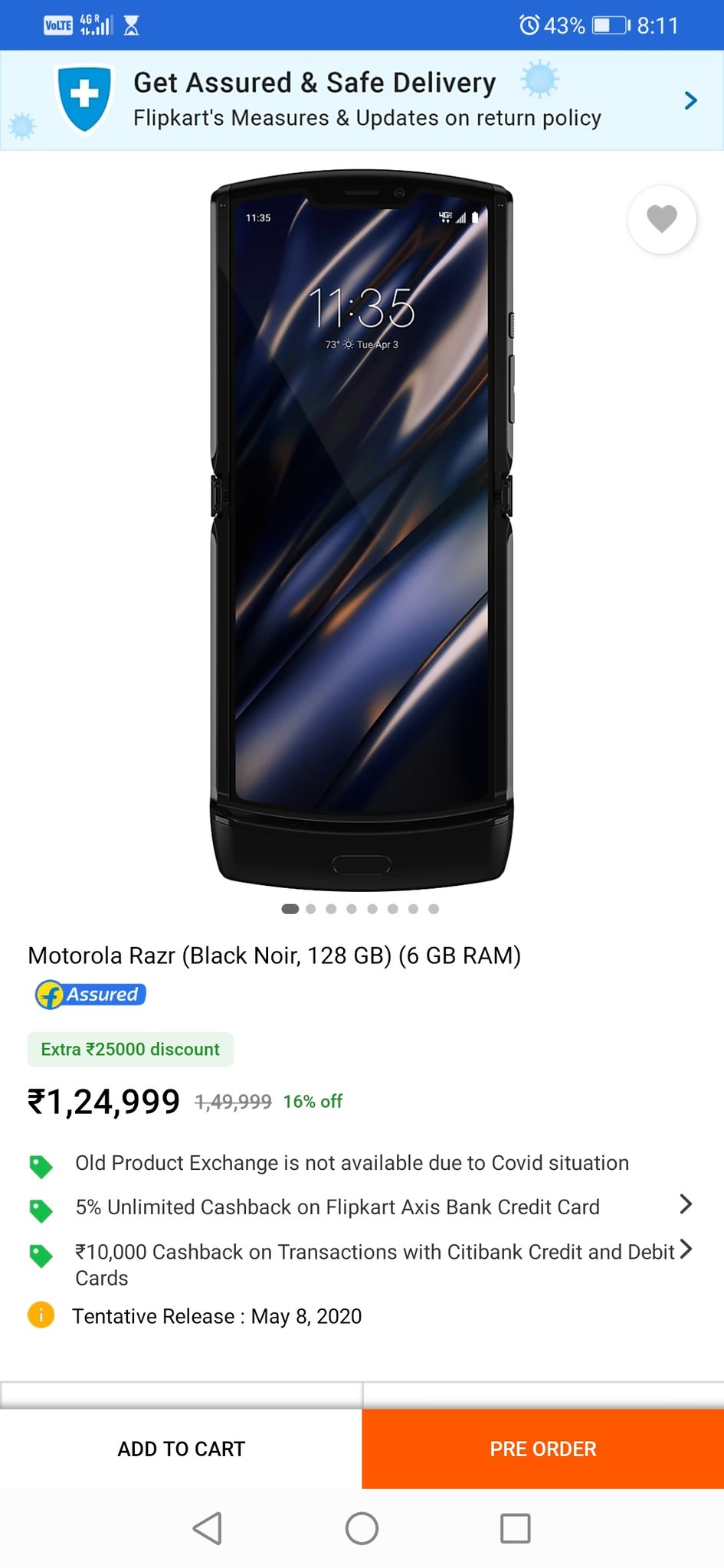 Motorola India is yet to release an update through its social channels on whether it will be starting with the sales of Motorola Razr this week. The above shown screenshot reveals that the Razr that has 6 GB RAM and 128 GB of storage is priced at Rs. 1,24,999 (~$1,650) in India. The above screenshot was shared by tipster Mukul Sharma. However, this writer could not find the tentative date mentioned on Flipkart at the time of publishing the post.
Motorola Razr specifications
The Motorola Razr has a bendable 6.2-inch pOLED inner display with 21:9 aspect ratio. At front, it has a 2.7-inch secondary screen. The Snapdragon 710 SoC powers the device. It has a rear camera of 16-megapixel and a selfie camera of 5-megapixel. The device houses a 2,510mAh battery with 15W charging support.
(via)