Lenovo-owned Motorola had announced the Motorola Razr clamshell flagship phone with a foldable screen in November. At that time, it was reported the Motorola Razr 2019 won't be releasing in China. However, at the Consumer Electronics Show (CES) 2020 tech trade show that was held earlier this month, the company confirmed that the Motorola Razr with 5G support will be arriving in Q2 this year in China. A fresh repot on a Chinese tech blog reveals that the Motorola Razr 5G was showcased at the Wuhan International Expo Center in China.
The Motorola Razr 5G is being manufactured at the Wuhan facility of the Lenovo Group. The regular Razr phone that comes without 5G support ships with Snapdragon 710. Its 5G version seems to be equipped with a 5G-ready chip. Hence, it could be driven by Snapdragon 765 or Dimensity 5G chipsets. Motorola has recently released phones with Exynos chipsets from Samsung. Hence, there is a possibility that the Razr 5G could be equipped with Exynos 980. Hopefully, more information on the device will surface as its China launch draws near.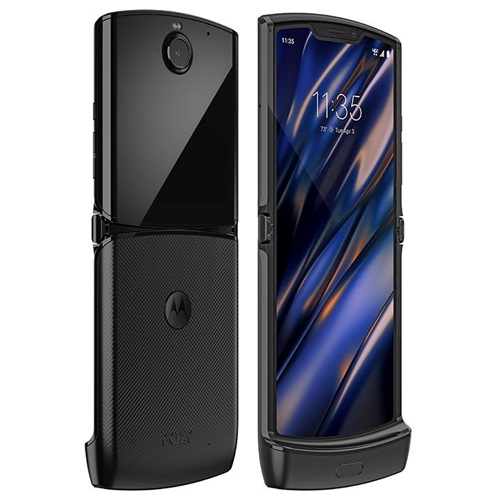 Motorola is currently working on the global release of Motorola Razr. The clamshell is now up for pre-orders in the U.S and the U.K. The shipments of the device are expected to begin in the U.S. from Feb. 6
Motorola
Razr 5G will be made available outside of China.
Soon after the announcement of Razr 5G's arrival in China at the CES 2020, Motorola had teased images of its retail package and production unit. The model number of the China is XT2000-2. The retail box image revealed that the Motorola Razr 5G for China has 6 GB of RAM and 128 GB of storage. Its other details are currently under the wraps.
Motorola Razr specifications and price
The Motorola Razr 2019 comes with a 6.2-inch foldable inner P-OLED display. It has an external display of 2.7 inches. The Snapdragon 710 powers the device with 6 GB of RAM and it has an internal storage of 128 GB. It lacks support for microSD. The handset comes loaded with Android 9 Pie OS.
The Razr has a selfie camera of 5-megapixel and it has a rear camera of 16-megapixel. The phone is backed by a 2,510mAh battery that supports 15W charging. It does not feature a 3.5mm audio jack.