Meizu 17 will be soon launched on April 22. Ahead of it, the device has been leaked multiple times over the past few weeks. Additionally, the brand itself has now started teasing its features. Yesterday, the company confirmed the processor and battery capacity of the handset. And now, it has shared the internal battery endurance test results of Meizu 17 against competitors like Huawei P40 Pro, Oppo Find X2 Pro, and Xiaomi Mi 10.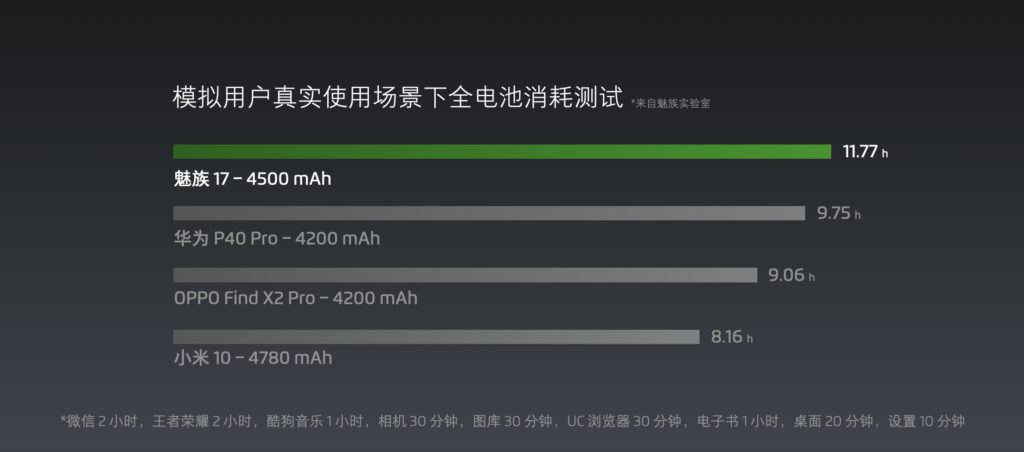 As you can see from the image above, the upcoming Meizu 17 performs better than all the competitors that were tested alongside it. Bizarrely, the Xiaomi Mi 10 with the largest capacity battery, 4,780 mAh to be precise, performs the worst with only 8.16 hours.
Further, although the Huawei P40 Pro and Oppo Find X2 Pro have a similar 4,200 mAh battery, the former achieved 9.75 hours compared to the latter's 9.06 hours.
Whereas, the star of the show, Meizu 17 with a 4,500 mAh battery scores 11.77 hours, which is much better than all the handsets mentioned above.
The 8 hours battery endurance test conducted by Meizu laboratory included the devices to run WeChat for 2 hours, Kings of Glory gameplay for 2 hours, music playback for 1 hour, 30 minutes of camera usage followed by another 30 minutes for the gallery app, 1 hour of E-book reading, 20 minutes on the homescreen, and 10 minutes in Settings.