Lu Weibing, Vice President of Xiaomi Group and President of Xiaomi in China, recently went to his personal Weibo to announce some fairly big news. The post reads "#Redmi K30 5GPioneer # Xiaomi Mobile customized 5G phone card is here!" announcing the launch of Xiaomi's first foray into the realm of 5G providing, with their new Redmi K30 5G bundle.
From this point on, any users who purchase the Redmi K30 5G through Xiaomi Mall will receive a Xiaomi mobile customized sim card, not including phone charges. This card is a 5G customized card specially launched by Xiaomi Mobile for Mi Fans, and supports China Unicom 5G, 4G, 3G networks. Of course, consumers who want to try 5G first need to ensure that their location has 5G signal coverage.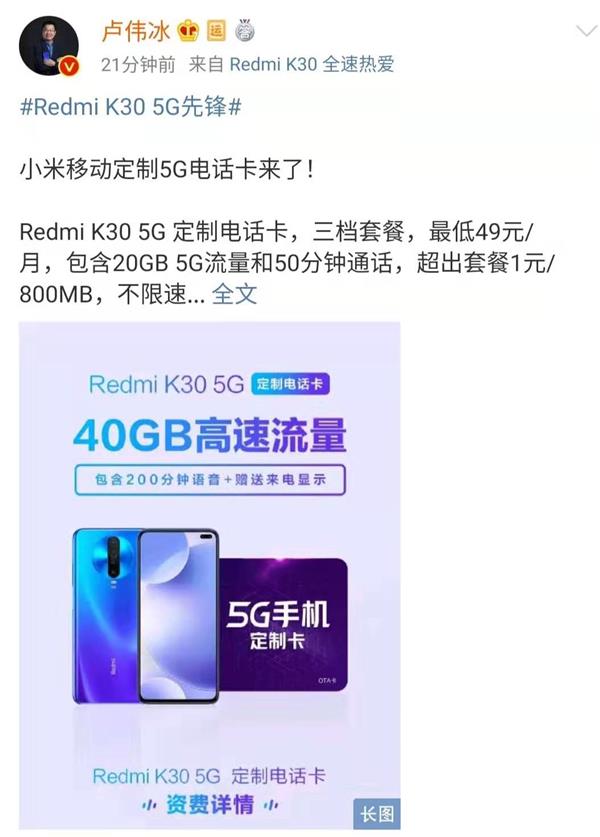 The 5G exclusive custom card launched by Xiaomi Mobile includes three packages of 49 yuan, 69 yuan and 99 yuan. The packages are rated as such:-
The 49 yuan ($7) economic package includes 20GB of data and 50 minutes of voice;
The 69 yuan ($10) value package includes 30GB of data and 100 minutes of voice;
Xiaomi is clearly attempting to take an upper hand in the 5G race, and it's a pretty smart move on their part. They're the first company truly trying to take advantage of the mainstream market by offering a cheap 5G device to their customers, as well as a fairly affordable set of 5G plans to go with it. If this continues, we could see the Chinese giants take an early lead in the race for 5G dominance.
(Source)