After the arrival of foldable phones to the market, a lot of innovative devices started coming to the shelves. In 2020, among the best smartphones, you do not only get those silly rectangles since a lot of new form factors started to emerge. An example is the LG Wing, with its dual rotating display and its Swivel Mode. This year Motorola even launched the Razr 5G: the evolution of its first foldable phone which is reminiscent of the iconic Razr series. Even Microsoft is back to the smartphone market and with a new form factor: the Microsoft Surface Duo is a foldable phone which is able to rotate by 360 degrees and supports the Surface Pen! Here is a comparison between three of the most innovative phones of the year.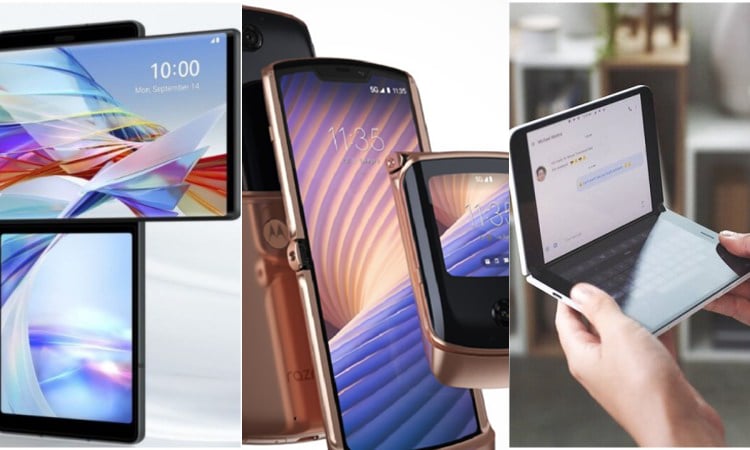 LG Wing vs Motorola Razr 5G vs Microsoft Surface Duo
LG Wing
Motorola Razr 5G
Microsoft Surface Duo
DIMENSIONS AND WEIGHT
169.5 x 74.5 x 10.9 mm, 260 grams
169.2 x 72.6 x 7.9 mm unfolded and 91.7 x 72.6 x 16 mm folded, 192 grams
186.9 x 145.2 x 4.8 mm unfolded, 145.2 x 93.3 x 9.9 mm folded, 250 grams
DISPLAY
6.8 inches, 1080 x 2460p (Full HD+), P-OLED
3.9 inches, 1080 x 1240p, G-OLED (secondary display)
6.2 inches, 876 x 2142p (HD+), 373 ppi, Foldable P-OLED
2.7 inches, 600 x 800 pixels, G-OLED (secondary display)
8.1 inches, 1800 x 2700p (Quad HD+), 401 ppi, AMOLED (5.6 inches, AMOLED, 1350 x 1800p folded)
PROCESSOR
Qualcomm Snapdragon 765G, octa-core 2.4 GHz
Qualcomm Snapdragon 765G, octa-core 2.4 GHz
Qualcomm Snapdragon 855, octa-core 2.84 GHz
MEMORY
8 GB RAM, 128 GB – 8 GB RAM, 256 GB – micro SD slot
8 GB RAM, 256 GB
6 GB RAM, 128 GB – 6 GB RAM, 256 GB
SOFTWARE
Android 10
Android 10
Android 10
CONNECTIVITY
Wi-Fi 802.11 a/b/g/n/ac, Bluetooth 5.1, GPS
Wi-Fi 802.11 a/b/g/n/ac, Bluetooth 5.1, GPS
Wi-Fi 802.11 a/b/g/n/ac, Bluetooth 5, GPS
CAMERA
Triple 64 + 13 + 12 MP, f/1.8 + f/1.9 + f/2.2
32 MP f/1.9 front camera
Single 48 MP f/1.7
20 MP f/2.2 front camera
Single 11 MP f/2.0
BATTERY
4000 mAh, fast charging, and wireless charging
2800 mAh
Fast charging 15W
3577 mAh, Fast charging 18W
ADDITIONAL FEATURES
Dual SIM slot, 5G, IP54 splash proof, military certification, dual rotating display
eSIM, water-repellent, foldable display
Dual SIM slot, Surface Pen, foldable phone
Design
If we only consider the look, Motorola Razr 5G is definitely the best one. It is a clamshell phone with a foldable display built with premium material which reminds you of the iconic feature phones from the Motorola Razr lineup. But if you want to find the most useful form factor for multimedia and productivity, then LG Wing and Microsoft Surface Duo are more interesting options. With the Swivel Mode, the former can be used as a gimbal for better stabilization, it can split apps into two screens or even open two apps at the same time in two displays for a better multi-tasking experience. On the other hand, Microsoft Surface Duo has a dual display with a folding hinge that can turn it into a tablet. It can open two apps side-by-side for an even more amazing multi-tasking experience, it can be rotated by up to 360 degrees to reach the "phone mode" and it even supports the Surface Pen stylus!
Display
The AMOLED displays of the Microsoft Surface Duo are the most interesting panels because they come with a higher resolution and they can be positioned side-by-side in order to provide a tablet-like experience. Further, as mentioned above, you get the support to Surface Pen for handwriting and drawing, just like the Samsung Galaxy Note series! With the LG Wing, you get a rotating display with still high resolutions, while the Motorola Razr 5G offers an internal smartphone-sized foldable display and a mini external display to check notifications, shoot selfies, and a few more actions.
Hardware/Software
The most powerful hardware department belongs to the Microsoft Surface Duo which is fueled by the Snapdragon 855 mobile platform providing better CPU and GPU performance than the Snapdragon 765G. But unlike the Motorola Razr 5G and the LG Wing, Microsoft Surface Duo lacks 5G connectivity. With the LG Wing, you get 5G, up to 8 GB RAM, up to 256 GB of native storage, and even a micro SD slot to expand the internal storage. Android 10 is out of the box on each of these handsets.
Camera
LG Wing, Motorola Razr 5G, and Microsoft Surface Duo can be considered mid-range camera phones. The best one is undoubtedly the LG Wing which sports the most complete camera setup. It includes a main 64 MP sensor with OIS and two ultrawide sensors, as well as the best microphones with ASMR mode. Even the front camera is better with its 32 MP resolution. Right after, we got the Motorola Razr 5G with its 48 MP main camera and a 20 MP snapper for selfies.
Battery
The LG Wing has the biggest battery, it lasts more on a single charge and it is the only one to support wireless charging. Right after, we got the Microsoft Surface Duo with a 3577 mAh unit. The Motorola Razr 5G has a small and below-average 2800 mAh battery because it is a compact foldable phone.
Price
We still do not know the price of the LG Wing, while Motorola Razr 5G and Microsoft Surface Duo retail about €1500/$1400 and €1200/$1400 respectively. If you want the best design, the Motorola Razr 5G is definitely the best alternative, especially for nostalgic users. But if you prefer having a better user experience, then you should discard it. If we look at the specifications, the LG Wing is the most convincing one due to its better cameras, bigger battery, best audio experience, and protection against water and drops. But the Microsoft Surface Duo is the king of productivity with its dual display reaching a 8.1-inch diagonal, its advanced software offering the chance to use apps side-by-side, and the Surface Pen. Which form factor would you pick?
LG Wing vs Motorola Razr 5G vs Microsoft Surface Duo: PRO and CONS
LG Wing
PROS
Dual rotating display
Great cameras and stabilization
IP54 certification
Military certification
Bigger battery
Wireless charging
CONS
Motorola Razr 5G
PROS
Best design
Becomes extremely compact
Optional eSIM
Premium build quality
CONS
Microsoft Surface Duo
PROS
Surface Pen
Very wide display
Best hardware
eSIM
Folding by 360°
CONS
ALWAYS BE THE FIRST TO KNOW – FOLLOW US!