A few years ago, there were speculations that flexible display which would feature on foldable phones were the next big thing waiting to happen in the industry. Since then, a number of flexible display-packing models have hit the ground running but the technology is still in its infancy. Display maker LG is working on several solutions to fast track the adoption of the technology.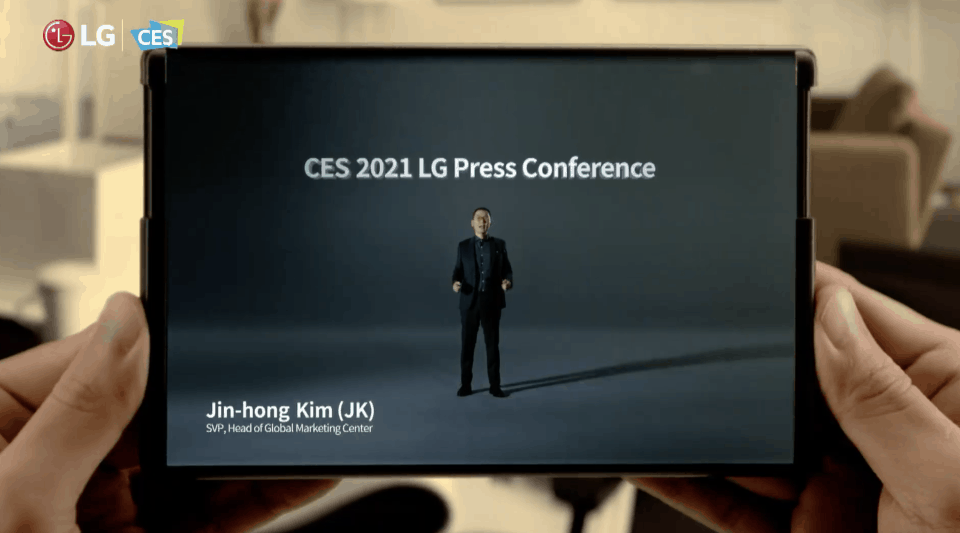 At the Consumer Electronics Show (CES) 2021, LG has teased the much-touted rollable smartphone. Rollable smartphones are gradually becoming a thing and although LG doesn't have one yet, there have been several leaks surrounding an upcoming foldable from the tech giant.
LG basically used the rollable smartphone seemingly held by someone to project the "virtual" stage at its event with Jin-hong Kim who is the SVP and Head of Global Marketing at LG speaking at the event.
Editor's Pick: OnePlus Band for Rs 2,499 (~$34) launched with AMOLED display, 14-day battery life, fitness tracking sensor and more
It is just what it is, a teaser, and nothing more. LG didn't mention anything about the rollable smartphone at the event. That isn't a surprise, though, as CES is not typically where LG announces its smartphones. LG usually keeps any smartphone announcement at CES to mid-range and entry-level models and not flagships. The company may unveil the rollable smartphone later this year, perhaps at MWC.
LG has a rollable OLED TV that is actually available to buy, so seeing a rollable smartphone is not a big surprise. It's essentially the same thing but in a smaller package.
This isn't the first time that we've seen a rollable smartphone though. Last year at CES, TCL showed off a rollable smartphone. However, it was a non-working prototype. It basically had a printed screen on it. So you could roll and unroll it, but couldn't open Twitter and other apps on it. OPPO also showed off a rollable phone last year, which actually worked.
So rollable phones are likely to be the next big thing, in the world of smartphones. And it's going to be impressive to see how this works.
UP NEXT: Tesla rival NIO offers EV with a record 700km range, raises competition in China
ALWAYS BE THE FIRST TO KNOW – FOLLOW US!