Advertisement
Earlier today (20th August 2020), the Lenovo ThinkPad X1 Fold was teased through the company's official Weibo account, a Chinese microblogging website. The teaser video showcased the laptop's lightweight, which is less than 1 kg.
The preview of the ThinkPad X1 Fold reveals that Lenovo is making thin and light laptop even more portable. In the video, the laptop is seen being compared to cotton signifying its airy nature. Similarly, other items included a balloon, a feather, and even a 1000 grams weight. All of which were heavier than the laptop which according to Lenovo, weighs just 999 grams. This would make it very easy to carry around and use on the go.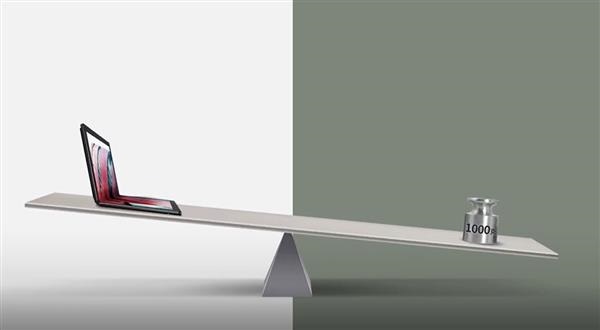 The laptop is expected to arrive with a 13.3 inch 2K pOLED display, with a 4:3 aspect ratio. It is built on lightweight alloys and carbon fiber and sports an Intel processor along with integrated UHD graphics as well. In terms of memory, up to 8GB LPDDR4XX RAM can be found along with 1TB of PCIe NVMe SSD storage. The ThinkPad X1 Fold also features a unique torque hinge structure and arrives with a Bluetooth Mini folding keyboard.
Advertisement
ALWAYS BE THE FIRST TO KNOW – FOLLOW US!
Advertisement