Advertisement
ZTE has confirmed that the Axon 30 Pro flagship is coming. The phone which will be the successor to last year's Axon 20 Pro flagship has been teased by ZTE's president, Ni Fei, to have the industry's best camera system. New info says that the phone may actually come with a 200MP sensor.
The info is from the Chinese blogger who goes by "WHYLAB" on Weibo and according to a post shared on the social media platform yesterday, he has heard that the Axon 30 Pro may come with Samsung's 200MP sensor.
A few weeks ago, it was revealed that smartphones sporting Samsung's 200MP sensor may soon launch. Now, it appears the ZTE Axon 30 Pro may be the first commercial phone to feature the sensor.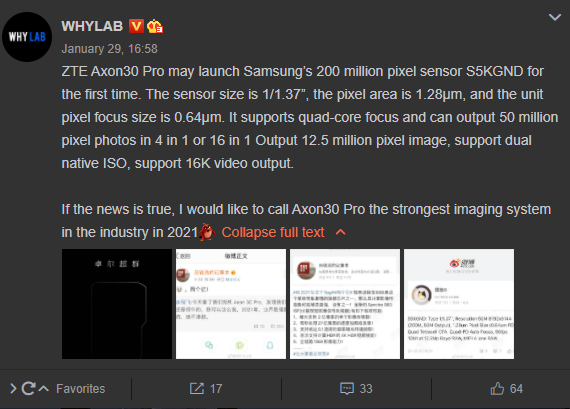 ZTE already confirmed that that the upcoming flagship will be powered by the Snapdragon 888 and one of the features of the chipset is support for up to 200MP cameras. Other processors that also support 200MP sensors are the Exynos 2100, Snapdragon 870, Dimensity 1200, Snapdragon 865 Plus, and Snapdragon 865.
WHYLAB also reveals the specs of the camera. His Weibo post reveals the model number of the sensor is S5KGND and it has an optical format of 1/1.37", a pixel size of 1.28um, and a pixel focus size of 0.64um. The camera has quad-pixel autofocus and mimics a 50MP image sensor by quad pixel binning or a 12.5MP by 16:1 pixel binning. It is also said to support 16K video output.
Advertisement
Samsung has not yet revealed its plans for a 200MP sensor but there is a possibility that it may announce the camera shortly before the Axon 30 Pro launches, the same day it launches, or shortly after.
The Axon 30 Pro is expected to launch after the Chinese New Year holidays which is a few weeks from today.
RELATED:
ALWAYS BE THE FIRST TO KNOW – FOLLOW US!
Advertisement