Following India's ban of a multitude of several Chinese apps, there have been some Indian developers that have launched local equivalents of the banned apps. An example is FAU-G which is supposed to be a sort of replacement for PUBG. Now, a new micro-blogging platform called Koo has been announced in the country and it shares several similarities to Twitter.
Twitter is currently at loggerheads with the India government following the latter's request for the micro-blogging platform to block several accounts. Some of these accounts are said to have tweeted using certain hashtags associated with the ongoing farmers' protest in the country. Twitter did ban some accounts but didn't suspend others as it believed the orders given to ban these accounts were not consistent with Indian laws.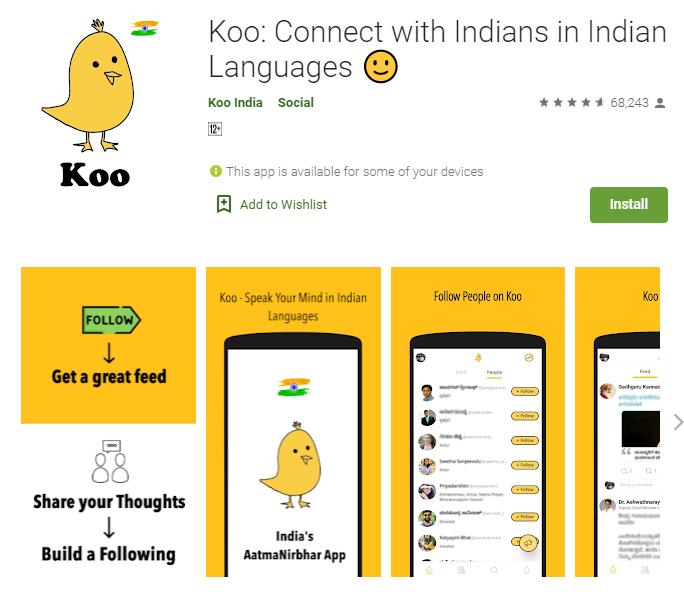 Koo is supposed to be the Indian alternative to Twitter and several government officials and politicians have joined the platform. It has a bird as its logo just like Twitter, has limited number of characters for its posts which it calls "koos" (you can also re-koo and re-koo with comment), and uses a similar four-tab interface when you check a user's account. It does have its own differences too such as icons to quickly share to WhatsApp
Facebook
.
As at the time of writing, Koo has over 68,000 installs on the Play Store and while it is far from the number of installs Twitter has, it is growing to become an alternative to Twitter for Indians. The app currently supports five Indian languages but the developers have confirmed that more languages are coming soon. There is also a web version for those who prefer a desktop experience.
RELATED:
ALWAYS BE THE FIRST TO KNOW – FOLLOW US!