Android OEMs have been launching 5G smartphones for a while now. But Apple introduced its first 5G handsets in the form of the iPhone 12 series only a few days back. Even though the standard iPhone 12 is expected to become the world's best-selling 5G smartphone in terms of revenue in the second half (H2) of 2020 beating the Galaxy S20+ 5G.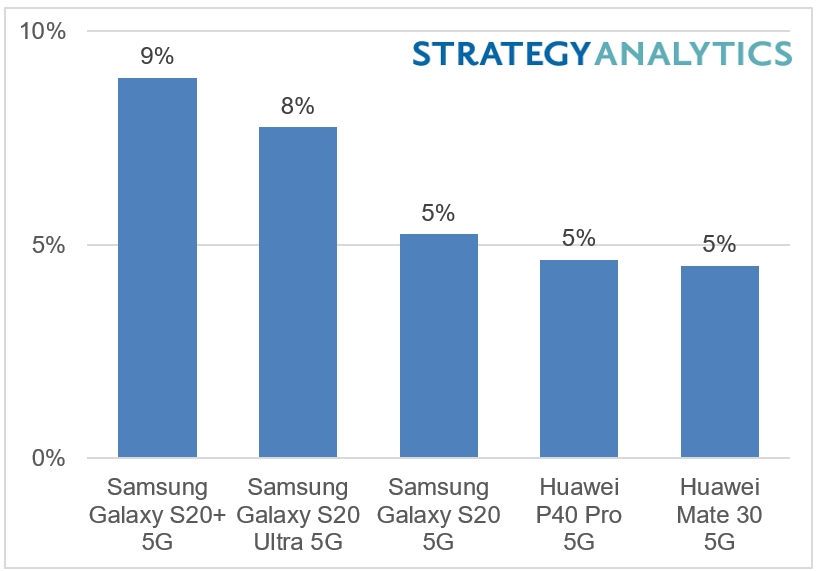 Strategy Analytics, one of the leading analytical firms has released a report on top-selling 5G smartphones in terms of revenue for the first half (H1) of 2020. Unsurprisingly, Samsung leads the chart with three devices, followed by Huawei.
As you can see from the picture, first place is occupied by the Galaxy S20+ 5G while the Galaxy S20 Ultra 5G
and
Galaxy S20 5G
have acquired second and third positions respectively. Whereas, the fourth and fifth places are captured by
HUAWEI P40 Pro
and
HUAWEI Mate30 5G
.
According to the report, the Galaxy S20+ 5G was popular in Western Europe, South Korea, North America, other regions. On the other hand, the two Huawei smartphones were widely popular in the company's home country China.
Advertisement
Though the list does not include a single iPhone right now since the iPhone 11 series sold in H1 2020 is limited to 4G, the chart for H2 2020 is expected to be led by the regular iPhone 12. And possibly, other iPhone 12 models could also make it to the list.
ALWAYS BE THE FIRST TO KNOW – FOLLOW US!
Advertisement