The Apple iPhone 11 is the latest smartphone to be reviewed by DxOMark Selfie team. The handset scores an overall 91 points. Unfortunately, it still does not make it to the top 10. It currently ranks 13th in the list just above Huawei P30 Pro and below Samsung Galaxy Note 9.
According to the testers, the iPhone 11 performs decently with similar outputs like its bigger sibling iPhone 11 Pro series but there are some differences as well.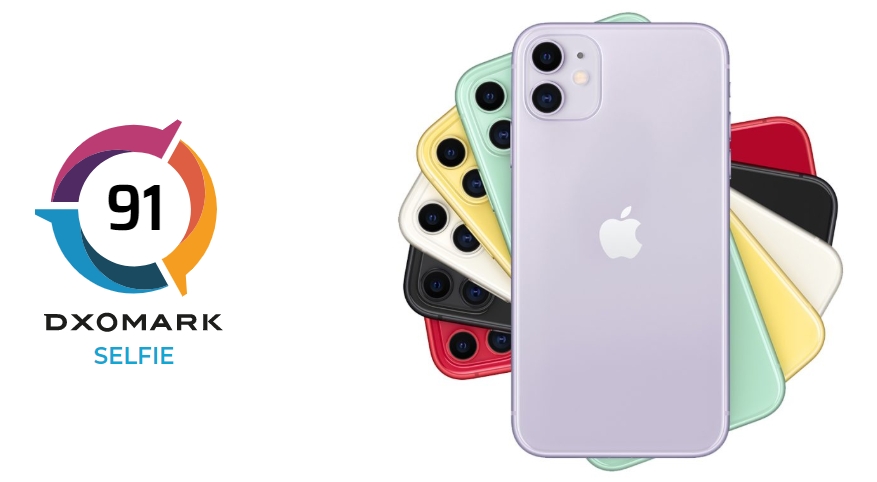 The selfies from the handset have very good target exposure on faces in almost all conditions. However, it does lack some dynamic range and highlight clippings are visible in images shot under high-contrast conditions.
The phone produces vivid colors with a slightly warm white balance. On the other, skin tones are yellowish on both iPhone 11 and iPhone 11 Pro. Whereas, the pictures from Galaxy S10 Plus have more natural-looking skin tone.
The cheapest iPhone from last year also has a problem with focus. Only the subjects close to the phone have good focus as the phone does not have an autofocus system. The images from the handset have a good amount of details in better lighting. Noise picks up indoors as well as in low-light scenarios.
Flash in the form of screen brightness does work as advertised but there are noise and vignetting effect with lower details. Artifacts in the images are well-controlled but there are visible corner softening, ringing, and anamorphosis.
The bokeh or portrait shots have strong blur even on the things that are in the same focus plane as the subject creating an artificial look. Also, there are visible blurs across the edges of the subject.
As for videos, the Apple iPhone 11 can shoot 4K 30fps clips with good details and lower noise than the iPhone 11 Pro. But the focus issue from pictures is present in videos too.
Also, colors are pleasant with accurate exposure and good white balance. The videos also have smooth transitions in changing lights with well-controlled artifacts. The stabilization is effective as well but it fixates more on the subject than the background.
As a whole, the iPhone 11's selfie camera performs reasonably well with the focus being its nemesis.
(Source)