In a clear indication of significant growth, driven by the increasing acceptance of earwear devices and upgrades to watches from wrist bands globally, the Indian smart wearables market has eclipsed its 2019 performance by posting a stronger result for 2020.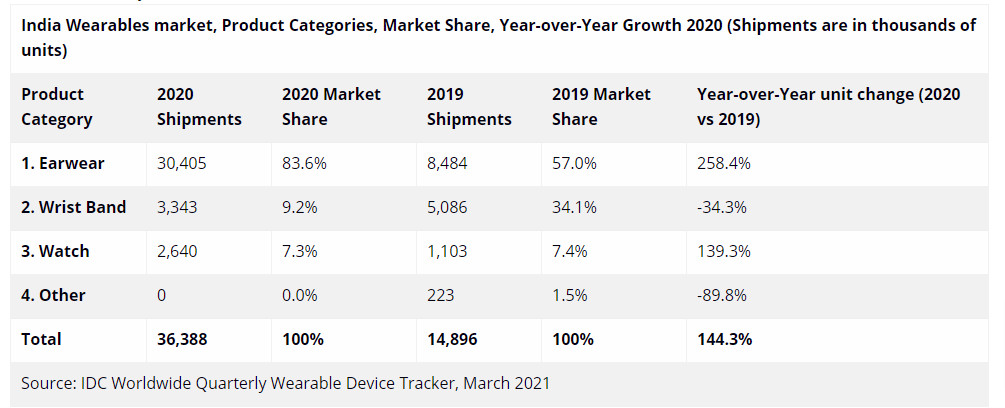 These are indeed good times for the wearables market in India, as a recent report from IDC indicated that the segment witnessed an overall estimated growth of about 144% in 2020 from the previous year, 2019. This was due to shipments of over 36 million units abroad.
The IDC report also hinted that earwear device shipments more than tripled from 2019 due mainly to their popular use for virtual meetings and other e-learning processes, and this accounted for a huge chunk (83.6%) of the total. This is equivalent to over 30 million unit shipments in 2020.
The report puts domestic firm BoAt as the top producer of wearables with higher shipments (33.3%), followed by Samsung with 14.5%.
Wristbands experienced a steep decline of 34.3% from 2019, due mainly to the rising popularity of alternative watches. Xiaomi and Realme are the leaders in this segment.
On the other hand, Watches saw a 139.3% growth above the 2019 numbers, with 2.6 million shipments. Noise and Realme are the leaders in the watch segment of the market.
The last quarter recorded the biggest quarterly figures for wearables in India. Overall, an estimated 15.2 million units were shipped in Q4 of 2020, thereby outclassing its 2019 performance by 198.2%. This was the first quarter when shipments of watches exceeded a million units (1.3 million units were shipped).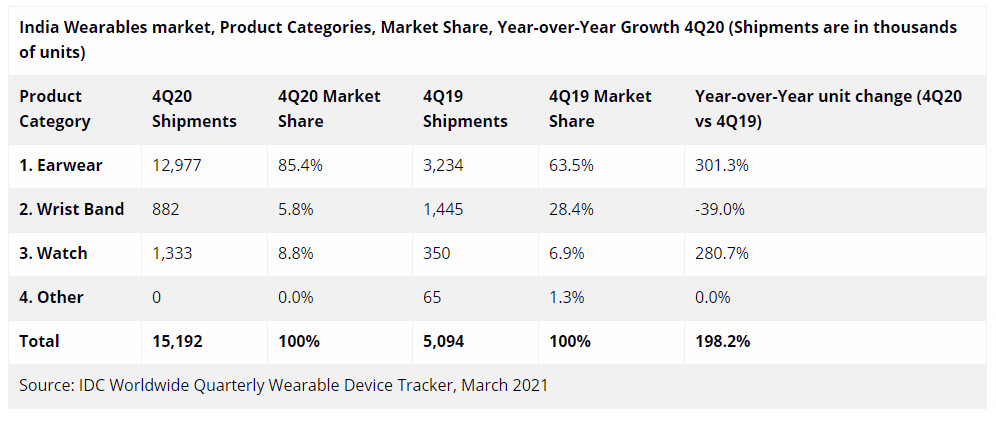 RELATED;
(source)
ALWAYS BE THE FIRST TO KNOW – FOLLOW US!