The Chinese smartphone market is a very competitive one with several key players vying for consumers' money. IDC has released its report for the year 2020 and it shows that Huawei is still the leader in its home country and by no small margin.
At the top of the list sits Huawei with a total shipment of 124.9 million units, giving it a market share of 38.3%. However, that figure is a significant drop from 2019's 140.6 million units. While the pandemic definitely affected sales, we also think that Huawei's limited supply of parts may have affected the drop in total shipments.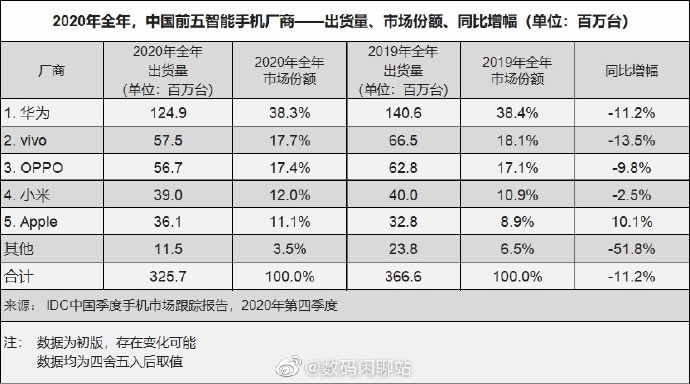 Vivo comes in at second place with 57.5 million shipments and a market share of 17.7%. In 2019, it shipped a total of 66.5 million units and had a market share of 18.1%. OPPO follows closely behind with a market share of 17.4% and total shipments of 56.7 million units.
Xiaomi comes in at the fourth spot with 39 million shipments and a market share of 12%. In 2019, it shipped 40 million units and its market share was 10.9%.
Apple shipped a total of 36.1 million units, almost 4 million more than it shipped in 2019. its market share also increased from 8.9% in 2019 to 11.1% in 2020. As you can see, save for Apple, all the other brands on the top five list recorded a drop in the total number of smartphones shipped in 2020.
Other brands accounted for the remaining 11.5 million units of the 325.7 million total smartphones shipped in 2020.
We expect the smartphone market to pick up this year now that there is a vaccine for the coronavirus. Also, Huawei may have a difficult year unless the U.S. ban is lifted and it can get components for its smartphones.
RELATED:
ALWAYS BE THE FIRST TO KNOW – FOLLOW US!