Three of the major market research firms Counterpoint, Canalys and Strategy Analytics (SA) have all published their report showing the shipping estimates of the major smartphone companies. The data all seem to correspond with each other and shows Samsung retained its position as the number one brand in terms of smartphone shipment for the whole of 2019.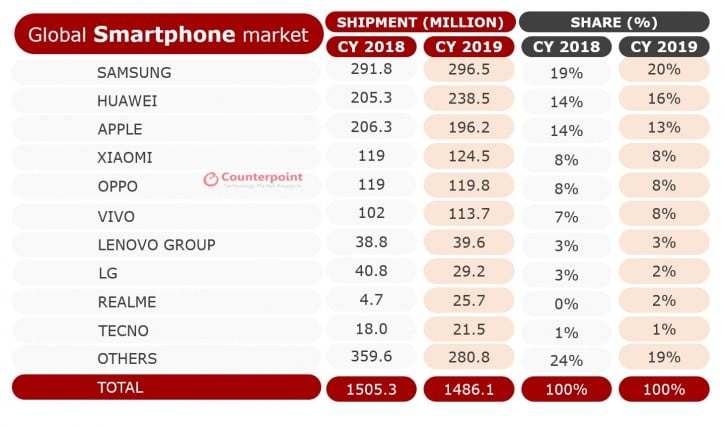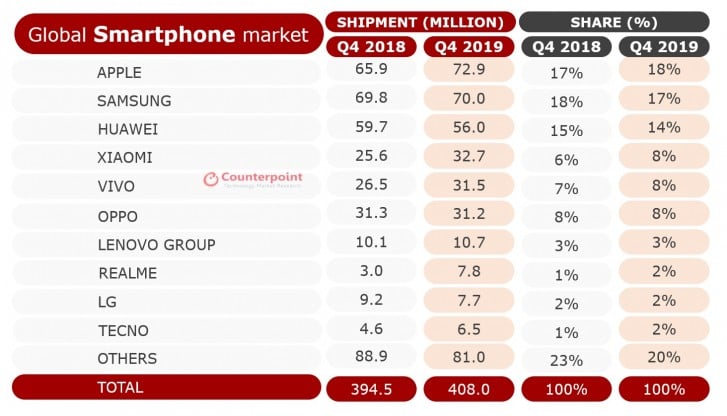 Huawei maintained its 2018 record by staying ahead of Apple to become the world's second best selling smartphone manufacturer in 2019. This is especially surprising considering that the brand has been grappling with an obnoxious ban by the US government hinged on security concerns. Huawei shipped an estimated 240 million mobile phones, a tad higher than its entire shipment in 2018. On the other hand, Apple managed to corner 200 million units, representing a slight drop in shipment.
Xiaomi emerged as the fourth largest phone maker in 2019 with shipments estimated at 125 million. The figure is slightly higher than the company's feat in 2018. Oppo rounded out the list of the top five manufacturers.
Despite individual gains, all three reports reveal that the industry experienced a slump with fewer phones sold in 2019 than in 2018. Counterpoint Research notes that this is the first time the smartphone market has ever declined for two years in a row. With the US's trade wars still ongoing, and China's coronavirus scare having potential implications for supply chains, 2020 could be another challenging year.