Huawei just launched the Nova 7i: it is not a completely new device but it is just a rebranded version of the Huawei Nova 6 SE for markets outside of China. So you would get exactly the same specifications which you can consider midrange-class. But given that many people outside of China did not care about the Nova 6 SE since it was not for their market, we decided to compare it with other trending mid-rangers in order to give you a satisfying idea of what this handset is able to offer. We think there is nothing better than Redmi K30 and Realme X2 for such a specs comparison.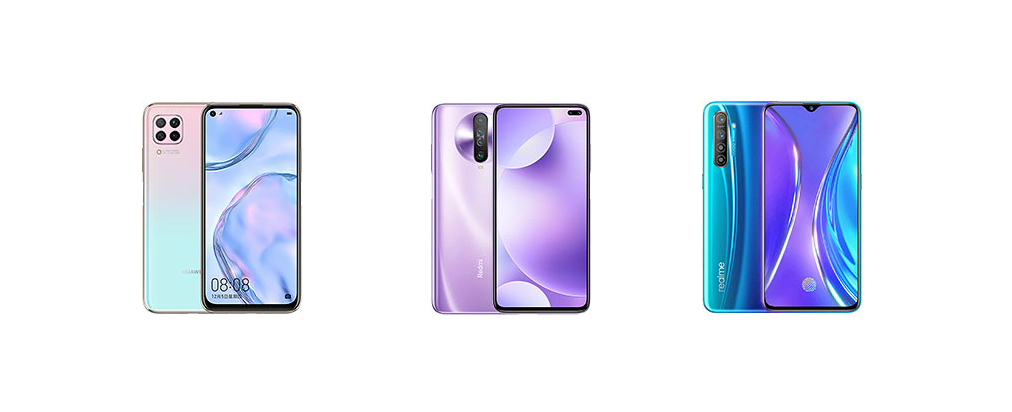 Xiaomi Redmi K30
Oppo Realme X2
Huawei Nova 7i
DIMENSIONS AND WEIGHT
165.3 x 76.6 x 8.8 mm, 208 grams
158.7 x 75.2 x 8.6 mm, 182 grams
159.2 x 76.3 x 8.7 mm, 183 grams
DISPLAY
6.67 inches, 1080 x 2400p (Full HD+), 395 ppi, IPS LCD
6.4 inches, 1080 x 2340p (Full HD+), 403 ppi, Super AMOLED
6.4 inches, 1080 x 2310p (Full HD+), 398 ppi, LTPS IPS LCD
PROCESSOR
Qualcomm Snapdragon 730G, octa-core 2.2 GHz
Qualcomm Snapdragon 730G, octa-core 2.2 GHz
Huawei Hisilicon Kirin 810, octa-core 2.27 GHz
MEMORY
6 GB RAM, 64 GB – 6 GB RAM, 128 GB – 8 GB RAM, 128 GB – 8 GB RAM, 256 GB – micro SD slot
6 GB RAM, 64 GB – 8 GB RAM, 128 GB – 8 GB RAM, 256 GB – micro SD dedicated slot
8 GB RAM, 128 GB – nano memory card slot
SOFTWARE
Android 10, MIUI
Android 9 Pie, Color OS
Android 10, EMUI
CONNECTIVITY
Wi-Fi 802.11 a/b/g/n/ac, Bluetooth 5, GPS
Wi-Fi 802.11 a/b/g/n/ac, Bluetooth 5, GPS
Wi-Fi 802.11 a/b/g/n/ac, Bluetooth 5, GPS
CAMERA
Quad 64 + 8 + 2 + 2 MP f/1.9, f/2.2, f/2.4 and f/2.4
Dual 20 + 2 MP f/2.2 and f/2.4 front camera
Quad 64 + 8 + 2 + 2 MP f/1.8, f/2.3, f/2.4 and f/2.4
32 MP f/2.0 front camera
Quad 48 + 8 + 2 + 2 MP f/1.8, f/2.4, f/2.4 and f/2.4
16 MP f/2.0 front camera
BATTERY
4500 mAh, fast charging 27W
4000 mAh, fast charging 30W
4200 mAh, fast charging 40W
ADDITIONAL FEATURES
Hybrid Dual SIM slot
Hybrid Dual SIM slot
Dual SIM slot
Design
I consider Redmi K30 as the most impressive device in terms of aesthetics for a simple reason: the materials used. Redmi K30 is the only one to come with both a glass back (protected by Corning's Gorilla Glass 5 just like the display) and an aluminum frame. Realme X2 has a glass back as well, but it sports a plastic frame, while Huawei Nova 7i has a full plastic design, despite it has a very nice look due to its single punch hole and its modest dimensions. Naturally, your personal tastes will play an important role in this kind of decision.
Display
On the display side, it is a close fight between Redmi K30 and Realme X2. The former comes with an LCD panel that is not a trending technology, but it boasts a very high 120 Hz refresh rate and even the HDR10 technology. The latter has a pleasing AMOLED display which even comes with an in-display fingerprint reader, unlike Redmi K30 and Huawei Nova 7i. Do you prefer a higher refresh rate delivering a smoother user experience or an AMOLED panel and an under-display biometric sensor?
Specs & Softw are
The Snapdragon 730G chipset that you can find on the Redmi K30 and Realme X2 is definitely a more interesting SoC than the Kirin 810, despite Kirin 810 is built with a better production process. Indeed, it comes with very high graphics performance, you have more option for modding and even an amazing CPU. Both Redmi K30 and Realme X2 sport up to 8 GB of RAM and up to 256 GB of UFS 2.1 internal storage, so what makes the difference is the software. MIUI is currently more advanced than the ColorOS found on the Realme X2, but the phone will soon update to Realme UI and its software department will improve a lot. But for now, Redmi K30 takes the crown.
It is a very close fight between Realme X2 and Redmi K30 even when it comes to cameras. They have essentially the same quad camera on the rear side, both better than Huawei Nova 7i on the paper. But their front cameras are different: the Redmi K30 has a dual front camera including a depth sensor, while Realme X2 has a single 32 MP sensor (better than the 20 MP one found on the Redmi K30) but it lacks a depth sensor.
Battery
Redmi K30 has the biggest battery: with 4500 mAh it should last more than Huawei Nova 7i and Realme X2. The Realme X2 has just 4000 mAh but it charges faster thanks to a 30W charging technology. Huawei Nova 7i sits in the middle in terms of battery capacity, but it has the fastest charging technology with 40W, and that is why it wins the battery comparison.
Price
Huawei Nova 7i debuted with a €300 price tag, Realme X2 starts from €300 globally ($254 in China) and Redmi K30 starts from €255 in China (we learned it will launch globally as the Poco X2). At the end of the day, Redmi K30 is more interesting due to its bigger battery, 120 Hz display, good software, and more. But Realme X2 is not so far with its AMOLED panel, same hardware, good cameras and an upcoming software update which will add interesting improvements.
PROs
CONS
Realme X2
PROs
Amazing performance
Great front camera
AMOLED display
Micro SD dedicated slot
CONS
Huawei Nova 7i
PROs
Faster charging
Good design
Android 10
CONS