Earlier today (29th January 2021), the 2020 rankings for the smartphone market in China was released by known research based firm Canalys. The report found that Huawei along with Honor led the market followed by other major OEMs, like Oppo, Vivo, Xiaomi, and Apple.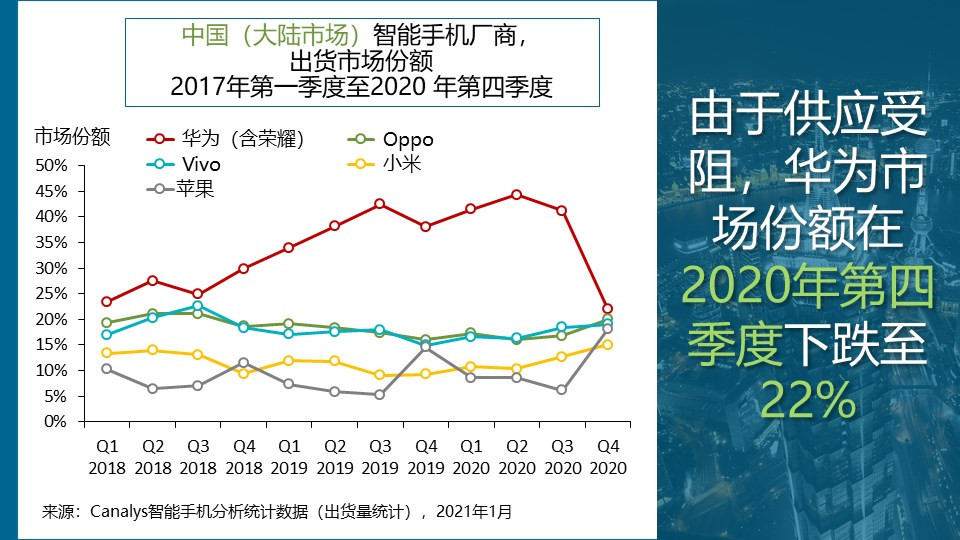 As per an ITHome report, the smartphone market in mainland China reached 84 million units in shipments in the fourth quarter of 2020. This marked a year on year decline of 4 percent last year. Talking about annual shipments, the overall handset shipments fell by 11 percent year on year, reaching 330 million units. One of the reasons of the deterioration of the market was also due to Huawei's weaker performance due to US sanctions that has severely impacted its smartphone operations.
In the final quarter of last year, Huawei (including Honor) shipped a total of 18.8 million units, marking its market share fell from 41 percent in the third quarter to 22 percent in the fourth quarter. Oppo rose to the second spot during this time with a total shipments of 17.2 million smartphones, marking a year on year increase of 23 percent. Similarly, Vivo also saw a healthy growth of 20 percent during the same period with 15.7 million handset unit shipments.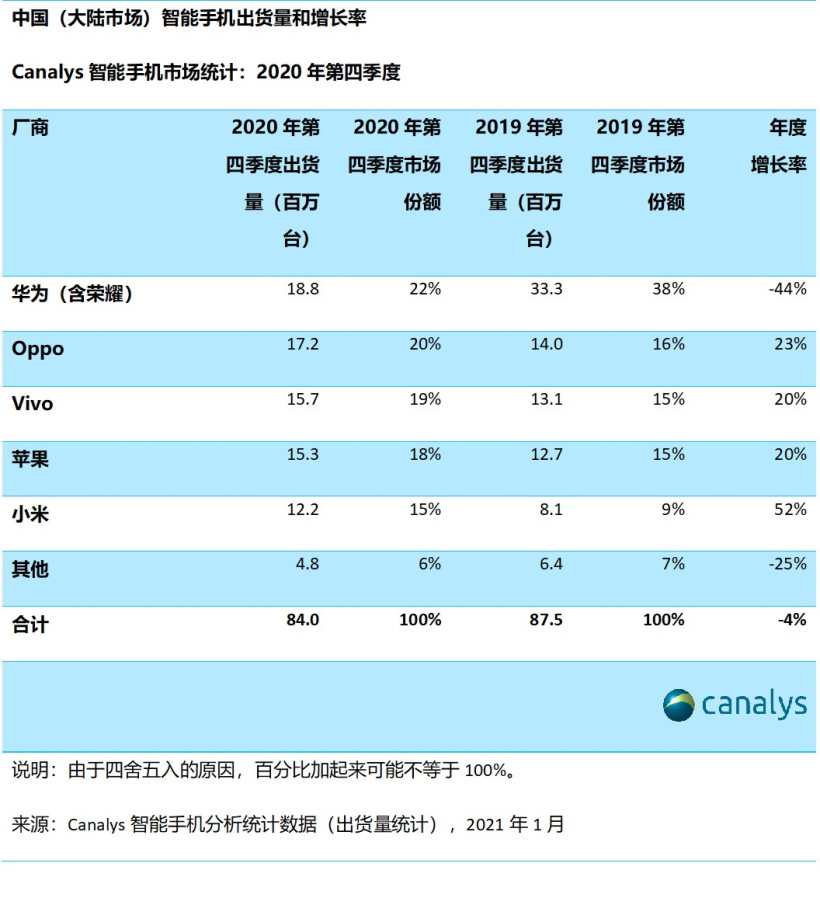 Furthermore, Apple also saw great performance in China over its last couple of years, wit shipments reaching 15.3 million units in the final quarter, acquiring a market share of 18 percent in Q4 2020. Xiaomi arrived fifth in the ranking list with 12.2 million units in shipments, marking a year on year increase of a whopping 52 percent. As per Canalys, "Huawei's shipments in the fourth quarter shrank by nearly 50% year-on-year. Although the demand for Huawei's products is still huge, the company will not be able to meet the demand in the foreseeable future. Other leading manufacturers are targeting this opportunity."
RELATED:
ALWAYS BE THE FIRST TO KNOW – FOLLOW US!