Chinese tech giant Huawei is acompany with many parts but the gaming industry is still a virgin field for the company. That may change soon, if the lastest rumour emanating on Weibo is anything to go about. A tipster @Tomato Prince has disclosed that Huawei is panning to release its own game console similar to the Sony PlayStation and Microsoft's XBox gaming consoles.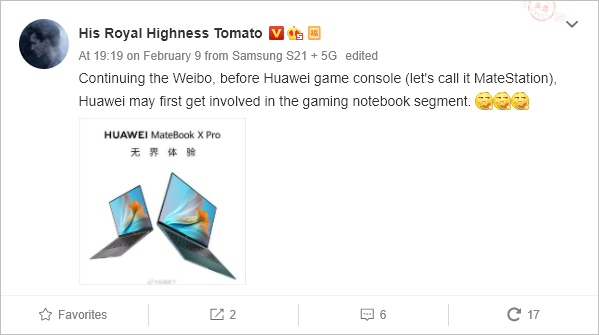 In addition, the tipster disclosed that Huawei will launch a gaming laptop within this year, marking its official entry into the gaming products field.
Last year, beforethe sales of the Honor brand, the Honor Hunter V700 Gaming laptop was launched which technically is a product under Huawei's belt. However, since the Honor brand has been sold off, the same cannot be said about the gaming laptop. Huaweiwas also expected to launch a branded gaming notebook but that didn't happen.
Talking of the gaming console, this is the first time we are getting wind of a Huawei-branded gaming console. What makes it even interesting is the comparison with the Xbox and PlayStation. That means we are looking at a high-end console. It is possible the console will be developed in prtnership with gaming software developers like Tencent games so as to get popular games inside the console.

These are just mere speculations, though. We can't vouch for the credibility of these disclosures but considering the sales of Honor, Huawei will definitely launch its own gaming notebook. The configuration and release details are still unknown. We can't say the same thing for the gaming console, so take the information with a pinch of salt.
RELATED;
ALWAYS BE THE FIRST TO KNOW – FOLLOW US!