Advertisement
As the first wave of gamers get delivery of Microsoft's Xbox Series X and Sony's PlayStation 5, Google scrambles to get more users on its own gaming platform. Almost one year ago this month, Google launched Stadia
Advertisement
: its
game
streaming platform that lets you play games using its Stadia Controller. The latest move from
Google
pushes to get more Stadia controllers into players' hands.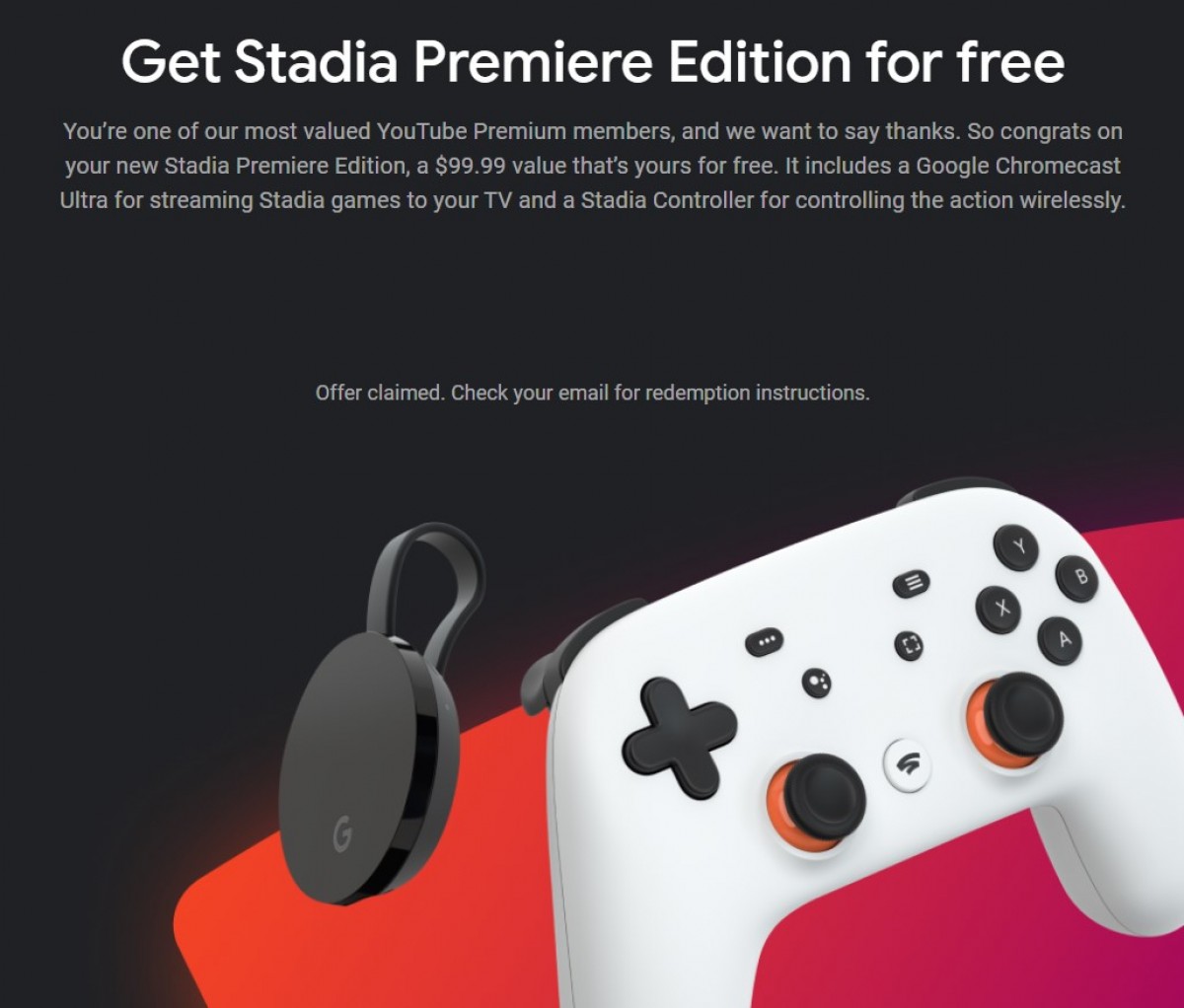 As first reported by Android Police, YouTube Premium subscribers in the US and the UK are eligible to receive a free Stadia bundle that includes a Stadia Controller, Chromecast Ultra 4K, and one month of Stadia Pro service for free. Some members (like myself) might be eligible for three free months of the game streaming service, perhaps if they have a YouTube Premium Family subscription.
https://t.co/yU7Q1Gn9Qp
This page has been updated!
If you have YouTube Premium, go check if you're eligible for a free Stadia Premiere Bundle!

— Gem Stadia (@GemStadia) November 9, 2020

Advertisement
On Google's US site, eligible subscribers must have a paid YouTube Premium membership as of November 6, 2020. They must also be over 18 years of age and reside in the US (excluding Hawaii, Guam, and US VI) and create Stadia Pro account with the same email address as the YouTube Premium subscription. Subscribers in Canada, and other countries in the EU will soon be eligible for the same promotion.
Google has enticed customers to try Stadia in the past. It has teamed up with telecom companies in both the UK and US to offer customers the same free bundle and some free service as well. After the trial, Stadia Pro costs $9.99 per month. Even if you decide to cancel the Stadia subscription past the trial period, you still get to keep the Controller and Chromecast Ultra to use on the free Stadia tier.
Advertisement