Strategy Analytics has released a new report which reveals that the global smartwatch shipments grew 20 percent in Q1 2020 to reach 14 million units. It also reveals that Apple is dominating the market and Samsung holds on to the second position.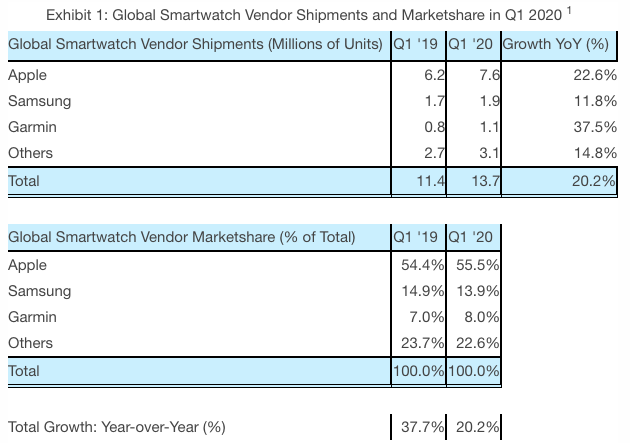 Apple managed to ship 7.6 million units of Apple Watches in the first quarter of this year, dominating the market with a share of 55 percent. This also represents a slight increase for the company compared to the same period last year.
Samsung, on the other hand, shipped 1.9 million units for a market share of 13.9 percent, which declined from 14.9 percent last year. Garmin, which holds the third position, managed to expand its market share from 7 percent to 8 percent and shipped 1.1 million units in Q1 2020.
Steven Waltzer, Senior Analyst at Strategy Analytics, says that the global demand for smartwatches continued to grow despite considerable headwinds from the COVID-19 pandemic. He added that smartwatches are selling well through online retail channels, while many consumers have been using smartwatches to monitor health and fitness.
However, the company predicts that the global smartwatch shipments will slow sharply in the second quarter of 2020 because of the ongoing COVID-19 pandemic. Woody Oh, Director at Strategy Analytics says that sales in Europe and the US have inevitably been hit by virus lockdown in recent months.