Fortnite, the popular online multiplayer game is finally available for download on the Google Play Store.
After a long battle with Google, Epic Games finally gave in and has listed its game on the Play Store, thus making it easier for folks to download rather than from its own app store or third-party platforms.
In an official statement released by Epic Games, the developer explained why it finally decided to list its app on the Play Store: "Google puts software downloadable outside of Google Play at a disadvantage, through technical and business measures such as scary, repetitive security pop-ups for downloaded and updated software, restrictive manufacturer and carrier agreements and dealings, Google public relations characterizing third-party software sources as malware, and new efforts such as Google Play Protect to outright block software obtained outside the Google Play store.".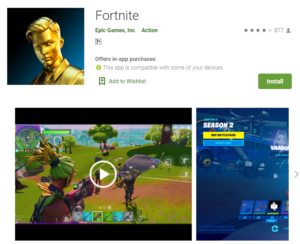 Based on the above statement, Epic Games had no other choice than to succumb to Google and list the game on the Play Store for better user experience. This also means Epic Games will have to pay Google the standard 30% cut on in-app purchases which was actually the reason why it didn't list the app on the Play Store in the first place.
Epic Games CEO, Tim Sweeney, said he hopes Google revises the 30% tax it collects from developers which he still believes is unfair.